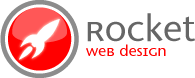 Rocket Web's New Offer Enhances Already Enticing SEO Services
Salt Lake City, Utah (PRWEB) November 12, 2013
Website designs are crucial in today's business; a homepage creates the feeling you would first get when you walk into a store. You look forward to finding certain products, and expect things to be in place. Seeing a disorganized, cluttered area gives creates an uncomfortable reaction that makes you turn away and go to a different source. It is in this same way that people approach websites, and that is why RWD is one of the most recognized specialists in custom website designs. Rocket Web works to accommodate companies' special needs and facilitate any size of business to have a high quality custom site—without breaking the bank.
Creating a new web page might sound difficult or even stressful, but Rocket Web creates a user-friendly experience throughout the entirety of the project. With this tempting new offer for a complimentary website when you sign up for an SEO package, it takes ease and efficiency to another level. This offer aims to give the clients a taste of the company's website services, to and allows them to see how simple it is to get their business out there in the most popular search engines like Google, Yahoo and Bing.
As well as custom web designs, Rocket Web also specializes in Search Engine Optimizations (SEO) which is a method that increases traffic, improving organic search engine rankings and generating more revenue. Some of the things that help this happen that vary from the simple Starter package to the far reaching Premium packages are: website designs, content data entry, lead generator analysis, slide shows, and even a new logo. They can also provide clients with a no-cost mobile website. According to studies, the most likely chance for people to visit a website will be on a mobile device in place of a computer. This means more companies will be in need of a mobile website, which again design being crucial, it attracts its customers and not just keep them engaged but to make them a client of their own. For RWD, being a provider for that service is a big bonus.
In today's world everything is developing at a high regularity pace and we all need to be up to date and adapt to the ever changing business region. With Rocket Web Design affordable packages and 100% satisfaction guarantee it can be easier to survive in this dog to dog competition and can help any business get started or contribute to existing websites. To set up a consultation or for more information about this custom web design firm, you can visit them online at http://www.rocketwebdesign.com.