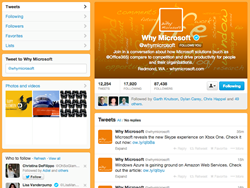 Seattle, WA (PRWEB) November 13, 2013
At the Puget Sound chapter of the American Marketing Association Pulse Awards event held November 7 in Seattle, the Microsoft Compete campaign designed and managed by r2i won in the Marketing Engagement category.
The Pulse Awards honor the effectiveness of marketing programs and acknowledge excellence in four key areas: Best Integrated Marketing Strategy; Best Demand Creation Campaign; Best Audience Engagement; and Best Product Launch. In addition to an extensive submission process in which finalists are selected, the final voting is conducted by marketing professionals and peers who attend the PSAMA Pulse Awards event.
The Microsoft Compete campaign, called "Why Microsoft," was designed to promote the competitive strengths of Microsoft's unified productivity platform and is a campaign r2i created to help in the social marketing efforts. A complete presentation of the campaign objectives, tactics, messaging, metrics and timeline is available here.
Pulse Award attendees reviewed each finalist's strategy, execution elements and business results to select a winner. R2i's VP of Social Marketing, Page Sands, represented r2i and the Microsoft campaign at the Pulse Awards event. This campaign is one of dozens of social strategies that r2i has created and managed for Microsoft and represents the value of a truly strategic social campaign. The integrated components were not only the different Microsoft Compete social channels but also a variety of tactics and messaging within those channels as well as reporting that informed specific areas for optimization.
"R2i is a Microsoft Preferred Supplier which is a status we've worked hard to earn over the last three years. Winning awards for our work with Microsoft is extremely gratifying is the result of our teamwork with Microsoft. Earlier this year we received two W3 awards for the Microsoft Ventures website and the Why Microsoft website. The Pulse Awards recognize a whole separate area of effective marketing—social marketing. We are extremely proud of our agency partnership with Microsoft and our award-winning work," shares Jody Stoehr, EVP and Managing Director of r2i's West Region.
For more on r2i, visit r2integrated.com.