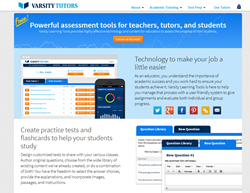 St. Louis, MO (PRWEB) November 13, 2013
In a continued effort to help students achieve academic excellence, Varsity Tutors, a premier one-on-one private tutoring and test prep provider, today announced the release of its new free, online assessment system called Varsity Learning Tools: http://www.varsitytutors.com/practice-tests and http://www.varsitytutors.com/classroom-assessment. The resource offers over 20,000 assessment questions across more than 95 academic subjects and standardized tests including ACT, SAT, GRE, GMAT, LSAT, MCAT, GED, and AP exams. Over 5,000 new question sets are being added each month.
Varsity Learning Tools enables teachers and students to assess performance and track academic progress over time. Users have access to robust analytics that include individual question analysis and explanation, percentile rankings, score vs. time distribution, and recorded time spent per question.
"Varsity Learning Tools provides students with a wealth of tools and resources that not only help them prep for an exam, but also provides them with the valuable feedback they need in order to improve their performance," said Varsity Tutors founder and CEO Chuck Cohn. "The addition of this open online resource will help further Varsity Tutors' goal of helping students at all levels of education boost their scores as well as their confidence."
The free resource also provides other opportunities for students to practice for exams, including a "Question of the Day" feature and digital flashcards that can be accessed on both desktop and mobile devices for a seamless study experience. Students can access Varsity Learning Tools by visiting http://www.varsitytutors.com/practice-tests.
Teachers can also use Varsity Learning Tools' online assessment system to create custom tests for their students and monitor individual and class performance, enabling them to reinforce the concepts they teach and further engage students outside the classroom. Teachers can learn more at http://www.varsitytutors.com/classroom-assessment.
All of the questions and tests are professionally designed and written by a cadre of expert educators from the company's team of more than 3,000 tutors who provide one-on-one, personalized instruction for all standardized, high-stakes tests and academic subjects across the school curriculum.
About Varsity Tutors
Varsity Tutors is a premier private academic tutoring and test prep provider designed to help students at all levels of education achieve academic excellence. Varsity Tutors delivers personalized, one-on-one instruction in any subject from STEM to the humanities and customized preparation for all standardized exams, including ISEE, SSAT, SAT, ACT and graduate exams such as the GRE, LSAT, MCAT and GMAT. Students from elementary to graduate school are expertly matched with an exceptional tutor who is best able to address their unique needs and goals. To ensure satisfaction and safety, only the highest caliber tutors are selected to join Varsity Tutors following a rigorous screening process. Varsity Tutors currently serves 25 cities nationwide and offers a variety of tutoring packages. Students and their families interested in learning more about Varsity Tutors should visit varsitytutors.com.