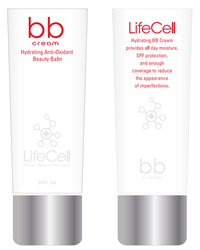 Miami, Florida (PRWEB) November 14, 2013
South Beach Skincare, Inc., announced earlier this week via the blog section of their website that 2 brand new LifeCell skin care products were currently in production and would be available for purchase in 2014.
According to an inside source from the company, "Our new products are set to launch next year…they will be our long awaited LifeCell BB Cream and Firming Body Butter" Although she wasn't able to say much, she commented briefly on the benefits of the two new additions, stating "Our Beauty Balm containing green tea extract will be the first LifeCell product to provide anti-aging properties plus SPF protection...the Firming Body Butter, which contains argan oil and caffeine is formulated to help fight cellulite."
She suggested the inception of creating a BB cream stemmed from the booming success of BB creams in Korean and other East Asian markets. "BB creams have been around the West for some time now, but we felt they weren't hitting their full potential…we wanted to create the perfect BB cream containing anti-aging ingredients that wouldn't be hindered by SPF."
This comes just weeks after South Beach Skincare announced their expansion to Latin America in which CEO Chris Suarez stated "With all the t's crossed and i's dotted, this time around I believe LifeCell Skincare is on its way to becoming a global phenomenon."
With another international expanse, plus two new products under their belt, South Beach Skincare may just become the 'global phenomenon' they aim to be.
About South Beach Skincare
South Beach Skincare (based in the Sunshine State itself) has been in the skincare industry for nearly a decade, delivering anti-aging essentials to men and women across the world. The line of products they carry is called LifeCell; a name which was originally given to their flag ship All-in-One Anti-Aging Treatment. The name stuck, and since creation in 2004, South Beach Skincare has released 3 more LifeCell products (Cooling Under-Eye Treatment, pH Balanced Cleanser, Collagen Anti-Aging Supplements) as they now prepare for their 5th and 6th additions. All LifeCell products are paraben free, and are also PETA Certified to be cruelty-free.