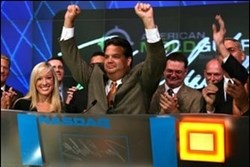 We are really excited about using The Funding Platform to help us with our 506C promotion. Corey Park/Titan Brick
New York, New York (PRWEB) November 12, 2013
The Funding Platform recently announced a restructuring of its agency pricing for private stock issuers seeking to advertise their private placement offering using the new Rule 506C, now effective under the JOBS Act.
According to Tom Blakeley, The Funding Platform's CEO, "Delivering a media plan that estimates total advertising costs to raise multiple millions of dollars can be overwhelming for most issuers. We are now producing media plans that are more "bite sized" and letting the private issuers start funding efforts one month at a time."
The Funding Platform is an advertising agency that specializes in assisting private issuers and placement agents to promote their private offerings under Rule 506 of SEC Regulation D. "Rule 506 is the most widely used capital formation outlet that allows issuers to raise an unlimited amount of capital from accredited investors", said Blakeley.
General solicitation in Rule 506 offerings was prohibited prior to September 23 of this year. Issuers are now allowed to advertise to the general public, provided that they sell securities only to accredited investors and take reasonable steps to verify that all purchasers in an offering are accredited. "Most issuers really don't know where to start when considering General solicitation to promote their offering and that is where we come in." Blakeley continued, "The first thing we do is get a clear understanding of their Private Placement Memorandum (PPM) and from that we develop a messaging kernel. From that kernel all other advertising messages are created. This keeps what is advertised consistent with what has been disclosed in the PPM."
The Funding Platform's media plans consist of a mix of Internet channels combined with traditional media, like print and radio, depending on the offering. "Every private offering is unique and speaks to different audiences; matching the media to the right audience is what we do well", Blakeley said.
The Funding Platform's EVP of Advertising, Travis Newman, states that the Company is currently assisting 14 private issuers preparing to use the new Rule 506C. When asked what type of advertising is being proposed, Mr. Newman responded with "We consider a wide range of advertising options. We like Brand name financial websites, financial newsletters, some social media sites, radio, PR, and affinity groups. What is critical is landing page conversion, and we spend a great deal of resources perfecting our client's landing pages."
The Company charges 20% of the media buy and does not participate in success fees related to the private placement. For example, if the advertising spend is $45,000 in a given month, The Funding Platform would receive a fee of $8,000. The Company's new bite-sized spending approach is to provide the issuer with a month-to-month advertising budget instead of a single large budget.
Company management says they should have some case studies by the end of the year and their first campaign is scheduled to begin at the end of this month.
About The Funding Platform:
The Funding Platform combines technology and human expertise to assist private issuers and placement agencies to promote Reg. D 506C private placement offerings. The Funding Platform acts as a third party advertising agency on behalf of private issuers and placement agents.