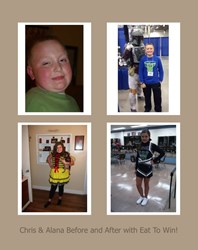 I learned new ways to motivate for healthy eating and physical activity.
Highland, Michigan (PRWEB) November 14, 2013
Jammi (pronounced Jamie) Roscoe, the Founder of Eat to Win LLC, makers of FunNutritional games and products, presented a session titled "Childhood Obesity--Reaching Children Where They Are" at the Tennessee conference of the American Alliance for Health, Physical Education, Recreation and Dance (AAHPERD) in October.
AAHPERD is the largest organization of professionals involved in physical education, physical activity, dance, school health and sport. Its mission is to advance professional practice and promote research related to health and physical education, physical activity, dance and sport –with an end focus on improving the health and well-being of the American public.
Jammi's session is one that is being presented at state conferences around the nation. The theme of Jammi's presentation is showing how one can relate to children through the use of music, games and fun. Attendees are able to put themselves into the seat of a child for the day and consider how childhood learning is different from adult learning. Eat to Win games are used as part of the presentation.
This presentation was well received by the attendees. Mary Cain, a Physical Education Teacher, said, "I know the kids at my building will benefit from this program, and I plan to share it with the parents." Diane Cook, another Physical Education teacher, said, "I learned some unique ways to get kids moving. I will add some of these games to my curriculum." Couravey Abernathy, a student teacher, said, "I learned new ways to motivate for healthy eating and physical activity. I love the money idea. This is so cool."
The Eat to Win Booth was visited by many of the attendees at the conference. Patrice Elder, Certified Athletic Trainer and Instructor at Tennessee State University, after looking at Eat to Win programs, said, "I am excited to see the Eat to Win and H3 program out for young children. It will serve a great purpose for them now and in the future. I am a supporter of this program and all that is to come of their upcoming ideas for kids."
Jammi Roscoe, Chief Executive Director of Fun for Eat to Win, says, "We had great success at the Tennessee AAPHERD Conference this past year. We not only had a well-received presentation, but the 700 people in attendance had a chance to stop by our booth and take a closer look at our Eat to Win games."
"We are particularly excited to see the large numbers of Physical Education Teachers who resonate with our approach to teaching children the importance of healthy eating habits and physical activity," added Gary Gabel, Co-Founder of Eat to Win.
For more information, please visit http://www.eattowingame.com.
About Eat to Win:
Eat to Win was created by a concerned mom whose own child struggled with being overweight. Child obesity in America has become a major issue. An unhealthy lifestyle is a common problem among children and adults. Eat to Win was created to help encourage nutrition and exercise through fun and active games. Please share your stories with us on Facebook and Like Us to receive a discount! Our games are in agreement with ChooseMyPlate.gov.