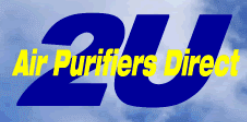 Our new site takes shopping for an air purifier to a new level. As always, we offer free shipping and lowest prices without sacrificing service.
Peoria, IL (PRWEB) November 16, 2013
Leading room air purifier website, AirPurifiersDirect2u.com, unveils its new website this month, making it easier for customers to navigate and shop-friendly for workplace and home air purifiers needs.
"We've added amazingly versatile search options for our customers to simplify your shopping experience; otherwise, air purification can become overwhelming," says owner Barb Lulay. "This new website makes it easier for customers to browse and choose an air purifier that is perfect for their home or office so their shopping experience is enjoyable."
The revamped site will make the customer experience a memorable one as individuals can shop for more products, receive filter reminder notifications, enjoy high quality photos, and more. To celebrate the new website, customers can expect a wide-site sale on all purifiers and products.
For those who want to live a healthier lifestyle, AirPurifiersDirect2U.com is a go-to website for a variety of office and bedroom air purifiers. The ecommerce shop offers leading purifier brands including Blueair, Austin Air Systems and Whirpool, to name a few. Customers have the ability to shop by residential and workplace units, air purifiers for special health needs (like asthma and allergies), room size, best sellers and discounted purifiers.
"Healthy, safe indoor air is no longer a luxury, it's a necessity," adds Lulay. "50 percent of all diseases are caused or aggravated by poor indoor air quality."
About the company:
Barb and Dick Lulay's customers are passionate about reducing their risk of disease. Their customer service and product expertise make shopping with http://www.AirPurifiersDirect2U.com an ideal experience. With a full line of natural products such as air purifiers, natural supplements, green cleaners, weight management and paraben free skin care, families find they can conveniently do their household shopping online with home delivery. As successful business owners, the Lulays offer a mentoring program for other aspiring entrepreneurs. They present exceptional marketing tools and a training program that shows how to generate immediate income as well as long term passive income.