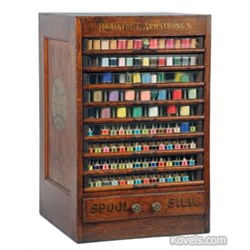 Cleveland, OH (PRWEB) November 14, 2013
The Kovels.com Top 20 searches for antiques and collectibles prices this month have a new favorite in the list—store collectibles. Several major auctions with hundreds of country store items sold for higher than expected prices. As old-time collectors downsize, rare pieces appear. A 1902 Moxie sign ($16,000), an early Coca-Cola gum sign ($55,200) and a Mr. Peanut peanut roaster ($16,800) led the way.
Country stores are wrapped up in nostalgia. A typical store sold general merchandise—coffee, groceries, tobacco, hardware, pottery and medicine, most in colorful eye-catching boxes, bottles or cans. And all vintage pieces sell quickly today. Old store collectibles are used to decorate restaurants and homes, often in a room made to resemble a fully stocked store. Serious collectors look for rarity, age, appealing graphics, top condition and large showy pieces.
Lithographed metal signs and containers are more expensive than those of cardboard or paper. Advertising cards and labels were collected even in Victorian times when color pictures were rare. Those collectors with a smaller budget but lots of enthusiasm look for country store items that are not as old but decorative and fun. Store collectibles have been growing in popularity for about 30 years and the trend is continuing.
This 27 ½-inch spool cabinet sat on the store counter. The colored silk thread was easy to find. "Brainerd & Armstrong's Silk Thread" was printed at the top. It auctioned for $780 at a Morphy auction in the fall.
During October 2013 antique enthusiasts were busy researching:
1. Stoves
2. Bottles
3. Occupied Japan
4. Coca-Cola
5. Fenton Glass
6. Banks
7. Dinnerware
8. Lamps
9. Milk Glass
10. Capo-di-Monte
11. Hull
12. Bavaria
13. Dresden
14. McCoy
15. Delft
16. Toy
17. Store collectibles
18. Belleek
19. Collector plates
20. Wedgwood
Collectors who search Kovels.com can learn more about identifying features, marks and prices. Kovels.com and the illustrated book, "Kovels' Antiques and Collectibles Price Guide," list thousands of current prices in hundreds of categories that are carefully selected, described and edited.
Terry Kovel is America's foremost authority on antiques and collectibles. Terry is a well-known columnist and renowned author of over 100 books. With her daughter, Kim Kovel, she co-authors the best-selling annual "Kovels' Antiques and Collectibles Price Guide." They will discuss antiques and collectibles topics with accredited media. Photographs are available. Contact pr(at)kovels(dot)com.
About Kovels.com
The online website, Kovels.com, created by Terry Kovel and Kim Kovel, provides collectors and researchers with up-to-date and accurate information on antiques and collectibles. Kovels' Antiques was founded in 1953 by Terry Kovel and her late husband, Ralph. Since then, Kovels' Antiques has continually published some of America's most popular books and articles about antiques, including the best-selling "Kovels' Antiques and Collectibles Price Guide," now in its 46th edition. The Kovels' website, online since 1998, and free weekly email "Kovels Komments," give readers a bird's-eye view of the market through up-to-date news, auction reports, an online Price Guide, a Dictionary of Marks, readers' questions with Kovels' answers and much more.
Contact info:
Liz Lillis
216.752.2252
Pr(at)kovels(dot)com