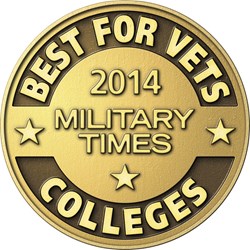 "It is an honor and a privilege to once again be included on the Military Times Best for Vets: Colleges Ranking," said Garry Jones, President of Full Sail University.
Winter Park,FL (PRWEB) November 13, 2013
On Veterans Day 2013, Military Times announced that Full Sail University has once again been included in the publication's annual Best for Vets: Colleges 2014 ranking. This marks the second year in a row that Full Sail University has received this honor.
According to a press statement released by Military Times:
The organization comprising Army Times, Navy Times, Air Force Times and Marine Corps Times placed a new emphasis on academic rigor this year when conducting and scoring the fourth annual Best for Vets: Colleges survey, a highly respected 150-question analysis of a school's complete offerings for veterans.
Best for Vets provides service men and women a gauge by which to judge whether a school or degree program will truly benefit them. The rankings factored in service member enrollment, percentage of tuition covered by the GI Bill, and availability of specific programs to help service members.
The extensive evaluation process also factored in statistics commonly used to track student success and academic quality, including student loan default rates, retention rates, graduation rates and student-faculty ratio.
"As with all of the Best for Vets rankings, Best for Vets: Colleges is an editorially independent news project that evaluates the many factors that make an institution a good fit for military veterans," said Amanda Miller, editor of Military Times EDGE.
"It is an honor and a privilege to once again be included on the Military Times Best for Vets: Colleges Ranking," said Garry Jones, President of Full Sail University. "We are proud to share this announcement with our veteran student, staff, and alumni community."
Of the handful of categories in which colleges could be ranked, Full Sail University appears in the online and nontraditional schools ranking. To view the list, please visit: http://projects.militarytimes.com/jobs/best-for-vets/2014/colleges/online-nontraditional/
The full rankings are available in print in the November issue of Military Times EDGE magazine, the premier publication for military transition, and online at MilitaryTimes.com, as well as ArmyTimes.com, NavyTimes.com, AirForceTimes.com and MarineCorpsTimes.com.
About Full Sail University:
Full Sail University is an award-winning educational leader for those pursuing careers in the entertainment and media industry. Founded in 1979, Full Sail has been recognized as one of the Top Five Game Degree Programs by Electronic Gaming Monthly, one of the Best Music Programs by Rolling Stone Magazine, and one of the Best Film Programs by UNleashed Magazine. In addition, Full Sail received the "21st Century Best Practices in Distance Learning Award" from the United States Distance Learning Association, was named the "School/College of the Year" by the Florida Association of Postsecondary Schools and Colleges, and was recognized as one of the Top 100 Social Media Colleges by Studentadvisor.com.
Full Sail offers on-campus and online Master's, Bachelor's, and Associate's degree programs in areas related to animation, art, business, education, graphic design, film, marketing, web development, music, recording arts, sports, and video games. Full Sail graduate credits include work on OSCAR®, Emmy®, GRAMMY®, ADDY®, MTV Video Music Award, and Spike Video Game Award nominated and winning projects.
http://www.fullsail.edu
http://www.twitter.com/fullsail
http://www.facebook.com/fullsailuniversity
###