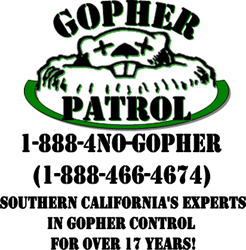 17 years of effective gopher control in Southern California.
Riverside, CA (PRWEB) November 14, 2013
Gopher Patrol recently celebrated its 17 year anniversary. Gopher Patrol has been providing quality gopher and rodent control to customers all over Southern California from Ventura County to San Bernardino County, San Diego and Los Angeles County, Orange County and of course Riverside County where they got their start. Family owned and operated Gopher Patrol is the longest running gopher control company all throughout Southern California. "Homeowners and Property Management Companies know to come to us to fix their gopher problem," states Ethan, General Manager of Gopher Patrol. With almost 2 decades in the gopher removal business, Gopher Patrol truly stands above all the rest. Offering gopher bait, gas methods and trapping methods Gopher Patrol has every option available to the customer. "We have pet friendly methods and traditional methods," says Ethan. Effective gopher control can be difficult at best, that's why going with the experts with the most experience makes sense. "We have technicians that work 8 hours a day 5 days a week solely treating for gophers, we know their habits, tendencies, quirks, what they like to eat, everything." "It's frustrating for the customer sometimes when they get bad information about gophers and how they work," says Ethan, "The biggest misleading statement is that its 'gopher season', that's not accurate info." Ethan goes on to explain that while there are generally 2 different times of the year the gophers may reproduce causing an uptick in activity, gophers in Southern California work year around. In colder climates the weather can cause gophers to dig deeper into the ground to keep warm. "But with 85 degree weather in the winter, in So Cal we don't get that." With 17 years of experience Gopher Patrol would know more than anyone when gophers are more active. Even nailing down gophers reproductive cycles can vary, weather among other factors plays a big part in the gopher cycle. Hot long summers or longer winters can throw off a gophers cycle. With Gopher Patrol's wide Southern California coverage area they get the big picture, not relying on just the common outbreaks that can occur in smaller areas or communities. There are a lot of factors that can cause these outbreaks, nearby construction being one. Whenever construction occurs the ground vibrations and digging can cause gophers in that area to move away forcing them into residential areas. Gophers diet mainly consists of roots to plants, bushes and trees. Unfortunately, the homeowners that take pride in their landscaped and irrigated lawns usually suffer the worse from these outbreaks. Soft, moist soil can attract gophers looking for their next meal.
Gopher Patrol started their gopher control in Riverside county 17 years ago and wants to extend a special thanks to the customers that have helped drive Gopher Patrol to become the most experienced and successful gopher removal company in Southern California.
Gopher Patrol is a full service pest control company with 14 service technicians who are all fully licensed. All our technicians are fingerprinted and registered with the DOJ. Gopher Patrol services commercial and residential properties as well as servicing city parks and golf courses all throughout Southern California. Recently featured on A&E's hit TV show Flipping San Diego, Gopher Patrol is the gold standard and innovators of gopher control methods and techniques. You can learn more about Gopher Patrol by visiting their website at http://www.gopherpatrol.com or by calling their toll free number 1-888-4NO-GOPHER (1-888-466-4674).