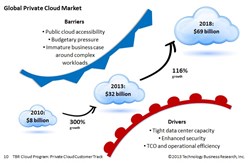 Hampton, NH (PRWEB) November 13, 2013
Technology Business Research Inc.'s (TBR) Private Cloud Customer Report estimates adoption of private cloud solutions will generate $69 billion in revenue by 2018. The report, which is the first of three customer-facing research initiatives in TBR's cloud customer portfolio, surveyed 650 cloud end users across North America, Europe and Asia to map vendor opportunity, customers and competitive landscapes. The data and analysis in the report details customers' perceptions of competing vendors, predicts buyer behavior, and highlights the barriers and drivers of adoption, which will shape the competitive strategies of private cloud vendors over the next five years.
TBR research shows that initially private cloud adoption was spurred by customers' need to fill gaps in public cloud solutions; however, its versatility is shifting the perception of, and ultimately demand for, private cloud by providing flexible solutions that address the requirements of maturing customers. This shift will lead to a 29% year-to-year increase of workloads run on private cloud solutions, from an average of four in 2013 to 10 in 2014. Despite this growth rate, customers that opt to move to a private cloud still struggle with proving a business case for the next set of increasingly complex workloads. This disjointed adoption road map signals opportunity for vendors to help customers move "low-hanging fruit" workloads such as CRM, HR, systems management and storage; however, the move is a more difficult path for functions such as ERP and BI.
"We looked at complexity and security criteria, and the ability for the workload to perform on a managed private cloud," said a survey respondent from a billion-dollar engineering firm. "We started with the low-hanging fruit: the simple applications with minimal security constraints."
"Private cloud has truly come into its own as a delivery mechanism that customers understand and are using to achieve the benefits of cloud where public options are either not available or viable," Lead Cloud Practice Analyst Allan Krans said. "It's an interesting space because the vendor landscape is so diverse and should evolve tremendously as offerings, regulations and open standards play out over the coming years."
Krans will review high-level findings from the Private Cloud Customer Report during the webinar "How the Rise of Private Cloud Is Reshuffling the Cloud Landscape" on Nov. 14 at 11 a.m. EST. Interested participants can register for this webinar at https://tbrevents.webex.com/.
Two reports outlining customer adoption of hybrid cloud and professional cloud services, respectively, will follow the Private Cloud Customer Report over the next two weeks.
For more information about the Private Cloud Customer Report or to purchase the report, please contact please contact Alison Crawford, senior marketing manager, at 603.758.1838 or alison.crawford(at)tbri(dot)com, or James McIlroy, vice president of sales, at 603.758.1813 or mcilroy(at)tbri(dot)com.
About TBR
Technology Business Research, Inc. is a leading independent technology market research and consulting firm specializing in the business and financial analyses of hardware, software, professional services, telecom and enterprise network vendors, and operators. Serving a global clientele, TBR provides timely and accurate market research and business intelligence in a format that is uniquely tailored to clients' needs. TBR analysts are available to further address client-specific issues or information needs on an inquiry or proprietary consulting basis.
TBR has been empowering corporate decision makers since 1996. For more information please visit http://www.tbri.com.