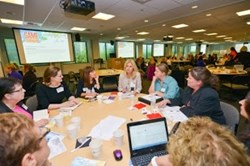 "WBENC is where you can actually see the power of women entrepreneurs in motion." Dawn Quinlivan Tactical TeleSolutions, Inc.
Lake Oswego, OR (PRWEB) November 13, 2013
Slideshow Astra WBENC Game Changer October 2013
On Oct. 16, Microsoft hosted Astra Women's Business Alliance, a regional partner of Women's Business Enterprise National Council (WBENC), for a day long "Game Changers, Champions for Women-Owned Businesses Worldwide."
The event brought together Fortune 500 companies, women-owned businesses and government agencies. This event included workshops, awards, and a matchmaker that provided an opportunity for those involved to do business, which can lead to economic development and job creation, which can then also span the world with its impact.
The program included Fernando Hernandez, director of supplier diversity at Microsoft partnering with WBE's Pamela O'Rourke, chairwoman, owner and CEO of ICON Information Consultants, to share their expertise on "How to Prepare for the Sales Call." WBE worked through an interactive session to compile its best practices in three target areas: growth strategies, business succession and access to markets. Best practices from this session are being shared within the WBENC national network of over 10,000 women business owners. The workshops concluded with a segment from the author of ProVoke, Linda Bernardi, who challenged the business owners to use disruption to innovate. Thanks to Microsoft's continued support of Astra, Bernardi will be leading WBE's through a special two-part "Effective Disruption" workshop before the end of 2013. The deadline to register for this Microsoft sponsored event is Nov. 20. Visit http://www.astrawba.org for more details.
Astra recognizes corporations and Astra women business owners for completing contracts with women business owners within the Astra network over a 12 month period. Four corporate supporters met and exceeded the award requirement and were honored on October 16th at the Gamechangers event held on the Microsoft campus: Done Deals awards were presented to: AT&T, The Boeing Company, Microsoft Corporation and URS. Microsoft was honored for its 7th consecutive year as a honoree of this Done Deals award.
About the Company:
Astra Women's Business Alliance, is a 501(c)(3) non-profit organization formed 17 years ago to champion support for women-owned businesses worldwide and serves as a regional partner of WBENC to provide third-party certification for qualified women –owned businesses in the states of Oregon, Washington, Alaska, Idaho, Montana and Northern California. Astra offers education, training and access to Fortune 500 companies and federal agencies who want to add women-owned businesses to their supply chains. For more information, please contact Diane McClelland @ dimac(at)astrawba(dot)org and the website.