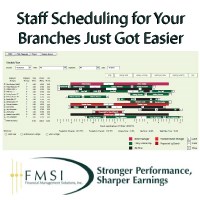 Alpharetta, GA (PRWEB) November 14, 2013
Financial Management Solutions, Inc. (FMSI), a provider of business intelligence solutions for banks and credit unions, announced today St. Mary's Bank (St. Mary's) has adopted FMSI's branch scheduler and reporting solution. The $730 million New Hampshire-based financial institution will use the FMSI system to effectively schedule its 9 branch location's staffing complement to demand, and subsequently improve its service.
"Previously we were not able to harness our branch transaction data, and instead had to rely on best guesses to properly align our staffing levels to demand," says Leo Simard the SVP Director of Business Development and Retail Sales at St. Mary's. "FMSI helps us improve our branch service by giving us access to our data in a format we can quickly understand, which allows us to properly schedule the right number of staff at the right time."
FMSI's Teller Management System™ addresses the concerns of today's financial institutions: keeping down expenses while improving service levels in the branches. Through the collection and then preparation of teller transaction data from an institution's core system, TMS quickly empowers management teams with easy-to-read and actionable business intelligence.
"In addition, we are particularly interested in having a more systematic approach to handling our staff's personal scheduling requests," adds Simard. "The manual scheduling process can be stressful when trying to keep track of each employee's preferences, an issue that is almost completely eliminated with FMSI's automated branch scheduler."
"Maintaining teller staffing at the ideal level to ensure customer satisfaction can sometimes be a very credit union specific decision," says W. Michael Scott, President/CEO of FMSI. "Without accurate information, most financial institutions are not equipped to make a proper evaluation. With more than 20 years of experience helping banks and credit unions improve the productivity of their staff, our unique solutions for measuring and forecasting transaction volumes regularly reveal areas for better service and increased productivity."
About St. Mary's Bank
As the first credit union in United States, St. Mary's Bank is proud of its heritage. For just over a century, they have been helping New Hampshire residents with a wide range of affordable products and services, including checking accounts, personal loans, real estate loans, business banking, and savvy financial planning. Learn more about St. Mary's Bank at http://www.stmarysbank.com/.
About Financial Management Solutions, Inc. (FMSI)
Located in Atlanta, GA and established in 1990, FMSI provides easy-to-use, yet sophisticated, business intelligence systems - The Teller Management System™ (TMS), The ContactCenter Management System™ (CMS), and the Lobby Tracking System™ (LTS)—that allow financial institutions to manage and staff to meet their service and sales needs. FMSI's smart scheduling application gives banks and credit unions the ability to optimally schedule their team throughout the branch network, and to manage staff through easy to read color graphics, online interactive dashboards, and succinct management reports. FMSI provides performance management information exclusively to financial institutions of all sizes, including a workforce optimization comparative data benchmarking report that allows clients to see where they rank amongst their industry peers. Visit the company's website at http://www.fmsi.com or call 877.887.3022 to schedule a complimentary online demonstration of any of our products.