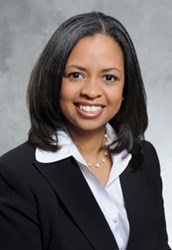 Lori has extensive experience working with corporations challenged with building a senior team of diverse professionals-Bob Barker, Managing Partner
Atlanta, GA (PRWEB) November 14, 2013
BarkerGilmore, a New York-based executive search firm focused on Corporate Board, General Counsel and Compliance positions, has announced that Lori L. Garrett has joined the firm as Managing Director and will co-chair its Women and Diversity Initiative. She joined the firm on November 1, 2013 and will head up its Atlanta, Georgia office.
As a senior member of the firm, Ms. Garrett will manage executive search assignments nationwide for board of director, senior legal counsel and compliance officers, with a primary focus on business-to-consumer companies. She will also be instrumental in expanding the firm's established women and diversity initiative, to ensure our clients hire the diverse talent they seek.
She comes to the firm having previously served as Vice President and Managing Director, Southeast Region, of the Minority Corporate Counsel Association (MCCA). There, Ms. Garrett had management responsibility for several key programs, services, and educational initiatives, including supervising its diversity and related research, launching its 10-city corporate inclusion training program, developing the organization's strategic plan for its corporate professional development and career services initiatives, creating and marketing its continuing legal education programs, managing its nation-wide online mentoring program, and directing over $1.5M in scholarship funds.
"Lori has extensive experience working with corporations challenged with building a senior team of diverse professionals," says Bob Barker, Managing Partner of BarkerGilmore. "Her solid grasp of the issues will contribute greatly to the firm and further assist our clients achieve their hiring goals."
Ms. Garrett is a well-recognized thought leader on professional development and diversity matters in the legal profession. Since 2011, she has served on the Steering Committee for Spelman College's Sister-To-Sister national mentoring program; and in 2012, she was awarded the Multi-Bar Leadership Council's Seth Kirschenbaum Diversity Award, for excellence in advancing diversity in the legal profession. She is a published author in Diversity & The Bar®, and has been quoted in various legal and business publications, including The Metropolitan Corporate Counsel, Canadian Lawyer Magazine, Atlanta Business Chronicle, and the Daily Report, among other media sources. She served on the Outreach Committee of the Law Pipeline Program since 2010, and has been a long-time volunteer with the University of Southern California Law School mentoring program. She is also an active member of the State Bar of Georgia.
"Joining a firm that is consistently advancing diverse executive level candidates into the most profitable companies in the country just made sense for me," says Garrett. "With a placement rate of 41% women and 23% minorities into board, legal and compliance positions, BarkerGilmore stands above all other executive search firms as a leader truly 'walking the walk' in creating a more diverse profession."
Prior to joining MCCA, Ms. Garrett was Associate Director in the Office of Career Services at Emory University School of Law, directing all employment services for the law school's alumni and working with corporate and law firm employers seeking diverse talent. Before her work in professional development and diversity, Ms. Garrett practiced commercial real estate law at two prominent and national law firms.
Ms. Garrett is a graduate of the University of Southern California Gould School of Law, where she was a member of the Hale Moot Court Honors Program, and Spelman College, where she received degrees in Spanish and psychology and graduated magna cum laude, in addition to being a member of Phi Beta Kappa.
###
Based in New York, BarkerGilmore is the leading executive search firm focusing on general counsel, compliance and board of director placements. The firm has refined an approach that guarantees success. Audited metrics over the past three years demonstrate a 96% successful finalist retention rate, 64% of whom are minorities or women, and a 93-day average search completion rate. The highly-applauded boutique firm expects to match or improve these metrics as it recruits and strengthens a broad cross-section of boards of directors.