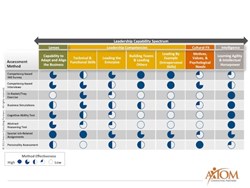 "Boards expect the HR leader to bring data to the table. There are scores of assessment methods – from competency-based 360 degree surveys and interview guides to cognitive ability tests and personality assessments. Aaron Sorensen, Ph.D.Axiom Consulting
Chicago, IL (PRWEB) November 14, 2013
Since boards of directors rank CEO succession planning and stewardship of the executive talent pool as top priorities, human resources leaders need to play a more strategic role in those activities, according to Axiom Consulting Partners.
For an article in the Nov. 2013 issue of Workspan magazine titled "Human Resources' Role in Succession Planning," Aaron Sorensen, Ph.D., and a principal at Axiom Consulting Partners, and Susan Mlot, a partner there, interviewed five executives on various boards of directors. The authors identified three general roles HR leaders can play in the succession planning process.

The Consigliore – The HR leader who can provide data and insight the board of directors needs to make wise decisions. Objectivity, trust and an independent perspective are hallmarks of the HR leader who can sit alongside the CEO and the board and help them make wise decisions.
The Process Owner – Someone with strong and objective governance discipline who can guide the board and senior leadership to treat succession planning like any other critical business process.
The Subject Matter Expert – The HR leader who can share information and insights about the strengths, weaknesses and development plans of a company's leadership talent pool. Effective HR departments are maintaining quantitative and qualitative data about performance and development plans about anyone who might have to step into a key position in the event of an emergency.
Mlot said, "The HR leader is in a perfect position to help the board of directors fulfill its succession-planning responsibilities but often he or she needs to evolve into a new role." In transitioning from a tactical to a strategic role, Mlot recommends:
1. Clarify with the CEO the responsibilities you are capable of taking on. It is particularly important to demonstrate an understanding of the CEO's vision and the degree to which the company's talent and organizational structure are aligned with the company's strategy.
2. Take the initiative to turn succession planning from an episodic scramble into a core business process that helps the organization build bench strength and helps executives in new roles succeed.
3. Familiarize yourself with a variety of leadership assessment tools and be prepared to recommend ways of assessing leadership competencies, cultural fit and intelligence characteristics such as learning agility and intellectual horsepower.
"Boards expect the HR leader to bring data to the table," said Sorensen. "There are scores of assessment methods – from competency-based 360 degree surveys and interview guides to cognitive ability tests and personality assessments. Human resources can play a critical role in matching the right assessments for each situation."
For example, the board of directors should expect HR to provide detailed talent assessments, including strengths, weaknesses and specific development needs, particularly in areas that can help someone move to the next level. Those needs can be met by creating actionable career maps, including the timing of specific activities – coaching, job rotations, outside training, or continuing education. Monitoring progress the career progress of high-performing executives can ensure that the company is strengthening its bench of talent.
About Axiom Consulting Partners
Axiom Consulting Partners works side-by-side with leaders to deliver pragmatic solutions that drive results. Our services help clients clarify strategy, focus on the highest priority sources of value and align their capabilities, processes and people to deliver sustainable, profitable growth. We always look at a client's challenges through the lenses of business strategy, organization design and talent management – it's why they choose us over firms that operate in just one of these disciplines.
Learn more at http://www.axiomcp.com.