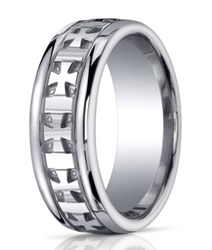 JustMensRings.com announces one of its biggest sales events of the year with the 2013 Holiday Sale, featuring deep discounts and free shipping without the Black Friday crowds.
Jensen Beach, FL (PRWEB) November 13, 2013
Shoppers looking to save on men's rings and wedding bands this Christmas season need not wait for Black Friday at the end of November – online jewelry store JustMensRings.com (JMR) has just announced the start of its annual Holiday Sale. One of JMR's biggest sales events of the year, over 600 styles of men's rings, wedding bands and jewelry items have been marked down up to 75 percent off for the Holiday Sale.
Pairing blowout Black Friday prices with the convenience of shopping online ahead of the holiday rush, this limited time sale features significant savings on some of JustMensRings.com's newest and most popular styles. In addition to shopping for affordable holiday gifts, many visitors to the site are taking the opportunity to save money on men's wedding bands and anniversary rings in advance of Christmas, New Year's Eve and Valentine's Day.
Offering a wide variety of styles, price points and sizes, the selection at JustMensRings.com truly has something for everybody, making it the ideal holiday shopping destination. Men's rings at JMR range from affordable contemporary materials like tungsten, titanium, stainless steel, ceramic, cobalt chrome and sterling silver to higher end precious metals like gold, platinum and palladium. Some of the site's most sought after styles, including stylish and affordable black rings and exotic Koa wood rings, can be found at deep discounts in the Holiday Sale section.
In addition to the number of ultra affordable styles under $50, JMR carries upscale men's designer rings by US based brand Benchmark, one of the foremost names in high quality men's rings. Those seeking luxury gifts are also sure to delight in the large collection of men's diamond rings, set in a variety of materials and with both white and black stone options.
Despite the name, JustMensRings.com is not just men's rings, as evidenced by the considerable selection of men's jewelry items, including men's pendants, bracelets and necklaces. Perfect as stocking stuffers and holiday gifts, many of these affordable items are also marked down for the Holiday Sale, with prices starting under $30. With free shipping on all orders and same day shipping available on all in-stock items, the Holiday Sale is already proving to be an irresistible draw for customers shopping for themselves and others.
"For many people, the holiday season comes and goes too fast, and sometimes precious family time gets lost in the shuffle," notes JustMensRings.com's president and owner Roy Devine. "Our Holiday Sale allows shoppers to get the gifts they want at unbeatable prices so they can relax and enjoy the holidays with family and friends."
JustMensRings.com's Holiday Sale is for a limited time only and only while supplies last; customers are encouraged to shop early to secure their desired items. In addition to the greatly reduced prices and free same day shipping, JMR offers a 30 day money back guarantee on all items and a lifetime guarantee on all designer men's rings.
About JustMensRings.com
At internet-only retailer Just Men's Rings, customers have come to expect the best possible prices on an extraordinary selection of men's wedding bands, fashion rings and jewelry for men, as well as the highest standards of service, selection and quality. The proof is in the numbers: JustMensRings.com now has the largest selection of men's fashion rings online, and is the only store in the United States that offers men's large size rings up to size 20. Just Men's Rings leads the competition with an unparalleled assortment of both classic and unique men's wedding rings in a range of traditional and contemporary materials including gold, platinum, palladium, diamonds, titanium, tungsten, silver, stainless steel, cobalt chrome and Seranite (or ceramic). JMR keeps pricing on all items low and affordable, and shoppers would be hard-pressed to find better deals elsewhere. Just Men's Rings is dedicated to providing its customers with a simple and secure online shopping experience, and offers a 30 day money back guarantee and free shipping on all orders.
For more information on JustMensRings, please visit http://www.justmensrings.com.
For further information, please contact:
Roy & Judy Devine, Owners
800-797-9773
roy(at)justmensrings(dot)com