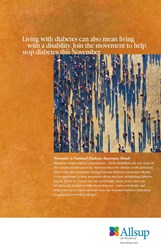 Being disability literate, knowing your rights and where to get help, empowers people to better protect and manage their health and their finances
Belleville, Ill. (PRWEB) November 14, 2013
Allsup, a nationwide Social Security Disability Insurance (SSDI) representation company, is raising awareness of diabetes-related disabilities and the importance of disability literacy during National Diabetes Month in November. Disability literacy is the ability to obtain and understand basic information regarding health, finances and available resources in order to adapt to and overcome the physical, financial, emotional and psychological challenges of a disability. Understanding how government programs, such as SSDI, function is a component of disability literacy.
According to the National Diabetes Education Program (NDEP), diabetes affects nearly 26 million Americans and an estimated 79 million people are at risk for developing the disease. Individuals with diabetes face a much higher risk of disability than those without the condition. Diabetes-related disabilities include blindness, kidney failure, nerve damage and amputation. These conditions often make it impossible to continue working.
For many individuals with diabetes-related disabilities, Social Security Disability Insurance is an important resource that provides a monthly income and access to health insurance coverage with extended COBRA benefits and Medicare.
To be eligible for SSDI, you must:

Be under full retirement age (65-67);
Have a medical condition expected to last at least 12 months, or is terminal; and
Be currently and fully insured. Generally, if you have worked and paid FICA taxes for five of the last 10 years, you will meet this requirement.
The Social Security Administration denies more than two-thirds (67 percent) of all SSDI initial applications. A 2010 government audit found that among people with diabetes, the rate of denial was even higher—81 percent.
"People need help," said Tai Venuti, Allsup's manager of Strategic Alliances. "The SSDI application process can be overwhelming and frustrating, especially if you get denied when you first apply," she said. "Imagine having to deal with all of the required paperwork, keeping track of deadlines, and collecting records, while at the same time living with a serious disease like diabetes.
"Being disability literate, knowing your rights and where to get help, empowers people to better protect and manage their health and their finances."
For more information on diabetes and disability literacy, download "Disability Literacy, Diabetes and Social Security Disability Insurance," featured at the American Diabetes Association's 6th Disparities Partnership Forum, Oct. 21-22, 2013.
For more information and assistance on SSDI eligibility, call (888) 841-2126 or visit Expert.Allsup.com.