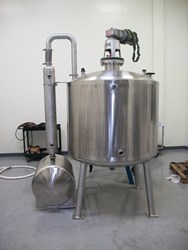 Los Angeles, CA (PRWEB) November 13, 2013
Lens Technology International (LTI), a leading manufacturer of abrasion resistant coatings, has just announced the addition of a 300 gallon reactor to augment their manufacturing operation. The addition of the new reactor tank is in response to an uptick in business for the company that has seen steady growth throughout its history. "We are very fortunate to see increasing demand for our coatings," said LTI President John Quinn. "This new reactor gives us additional capacity to meet that growing demand".
LTI manufactures coatings for plastic, glass, and metal substrates. As a leader in premium scratch resistant coatings, LTI offers a range of coatings for use on ophthalmic lenses and other optical applications. The addition of this reactor will allow the company to increase production and provide even greater value to their clients.
To learn more, visit the LTI website at http://www.lenstech.com/ or call 714.690.6470 to speak with a company representative.
###