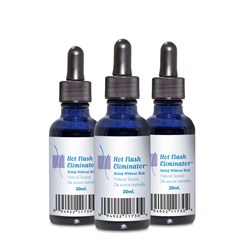 this actually works instantly, it's quick acting, it doesn't interact with any other medications
Miami, FL (PRWEB) November 13, 2013
Approximately 1.5 million will be diagnosed with cancer in 2013. There are many side effects from cancer. One of many side effects is extreme hot flashes. Finally, there is a safe antidote, a new product called Hot Flash Eliminator. Hot Flash Eliminator was originally created to deal with the symptoms of hot flashes in women suffering from hormone imbalances and menopause. Soon the word spread to catch the attention of renowned menopause experts, Carolyn Whiskin and Irene Hogan who decided to try Hot Flash Eliminator on their cancer patients several years ago and have been using Hot Flash Eliminator on all their menopause patients for years. However, due to a considerable increase in Cancer patients (particularly breast cancer) suffering from Hot Flashes, a study was conducted to test Hot Flash Eliminator on cancer Patients suffering from hot flashes. The findings were astonishing. For over 90% of test subjects, the hot flashes stopped instantly and in over 97% of those tested the symptoms of their hot flashes decreased.
The very high percentile efficacy and benefits of Hot Flash Eliminator comes in large part from its delivery method; it is taken sublingually (under the tongue) and subsequently; the effect on the hypothalamus (body's internal thermostat) is immediate. Hot Flash Eliminator is also completely safe to use particularly for cancer patients or for those with a family history of cancer or a propensity for cancer because it contains no plant-based phytoestrogens. It is not a drug. It is an infusion of specific flower essences known for their emotional and physical healing properties with regard to the symptoms of the condition into a distilled water base.
Jennifer Wiernikowski, Chief of nursing at the Juravinski Cancer Centre, said, "the product makes hot flash sufferers feel better and that's great"
Irene Hogan, B. Pharm. R. Ph. NCMP comments: "It actually addresses the emotional issues of the woman, it also helps with the mind/body emotion, so it decreases the stress, it decreases the emotions and unlike many herbs and even hormones that may take a little while to have an effect on hot flashes, this actually works instantly; it's quick acting, it doesn't interact with any other medications."
Hot Flash Eliminator is available for sale at health and nutrition stores throuout north America and on-line at places like Amazon. For more information on Hot Flash Eliminator, you can contact them by phone #1-888-503-5274 or visit them on-line at http://www.hotflasheliminator.com.