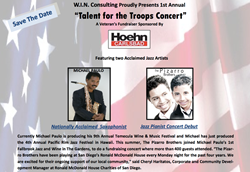 The "Talent for the Troops Concert" is a fundraiser to support the Veterans Association of North County.
San Diego, CA (PRWEB) November 13, 2013
The Veterans Association of North County (VANC), an association of more than 30 different veteran organizations serving over 5,000 members is establishing a new facility for all veterans and their families — the Veterans Association of North County Resource Center. The "Talent for the Troops Concert" is a fundraiser to support that project. Join us in honoring the men and women who have protected our freedom by helping VANC complete this important and much needed facility.
The "Talent for the Troops Concert" is a jazz concert held on the Anniversary of Pearl Harbor, Saturday, December 7th 2013 at The Social Hall of St. Elizabeth Catholic Church located at 6628 Santa Isabel St., Carlsbad, CA 92009 from 7pm-9:30pm. Tickets: 1 for $30 or 2 for $50 before the day of the event and $40 at the door.
Performing is acclaimed Saxophonist Michael Paulo who is one of the most versatile and cosmopolitan saxophonists in pop, soul and contemporary jazz for nearly 20 years, Michael Paulo has added his distinct saxpertise to a virtual who's who of artists, including Al Jarreau (Paulo's longest term touring association), James Ingram, No. 1 Smooth Jazz Trumpeter and guitarist Rick Braun and Peter White, Oleta Adams, Kenny Loggins, Patti Austin, Jeffrey Osborne, Jeff Lorber, David Benoit, Carl Anderson, Bobby Caldwell, Johnny Mathis. Read more at http://www.michaelpaulo.net
Making their concert debut are The Pizarro Brothers, Dominic 17 and Angelo 14. These young piano prodigies began their success at the prime age of 5 years old. They have been composing songs and performing since 7 years old. Born with perfect pitch, Angelo is currently at The Orange County School of the Arts and Dominic attends Cal State Long Beach.
The Pizarro Brothers have been featured on CBS Channel 8 with Larry Himmel, Fox News, KUSI & The CW. They have performed at Anthology, Make A Wish Foundation, The Ronald McDonal House Charities, Retirement Communities, The Rock Church, Petco Black Tie Gala, San Diego Sockers, Daniel Jackson Week at Croce's, Fashion Valley Mall, Mission Valley Mall, Horton Plaza, Borders Books & Music, Seaport Village, Temple Beth Israel, Reno, Jazz at the Creek, Christmas on the Prado, Little Italy Fiesta, Sicilian Festival, and much more. Their most memorable experience was "The Opening Act" for Composer Marvin Hamlisch on July 2, 2010. Read more at http://www.thepizarrobrothers.com
Both Jazz performers have been doing charity for years and now giving back to the Veterans.
The proud sponsors of the "Talent for the Troops Concert" are Hoehn Motors of Carlsbad, Hispanic Chamber of E-Commerce, 88.3 Jazz, Ranch & Coast, San Diego North County Economic Development Council, Escondido Chamber of Commerce, San Marcos Chamber of Commerce and Point Loma Credit Union.
Producing this 1st Annual Talent For the Troops is W.I.N. Consulting. To purchase tickets please contact VANC at (760) 967-7254 or visit http://www.vancnorthcounty.org For all other questions call Therese at (619) 889-7642.