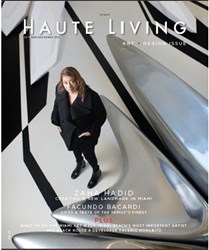 'Architecture is very tough, even if you are successful.' — Zaha Hadid
Miami, FL (PRWEB) November 12, 2013
In the Haute Living Miami Art & Design Issue, architecture star Zaha Hadid discusses her first residential tower in the western hemisphere and more. "Architecture is very tough, even if you are successful," she says. Zaha (with portraits shot by celebrity photographer Nick Alden) also talks about going back to Iraq for the first time in 40 years, getting ripped off by Chinese architects and her New Japanese National Stadium that is making waves.
"I think I had a difficult time because people did not think women could get it together. I was also a foreigner here, so that was like a double whammy. The work was not normal to them, so this was a triple whammy. We had to prove that we could do it as well as others."
Also in this issue, we interview Valerio Morabito, who is working with partner Ugo Colombo on Beach House 8, a modern, luxurious new development on Miami Beach on the ocean that features single-floor "beach houses."
Additionally, learn what artist Michele Oka Doner is exhibiting at Art Basel. Not only is her art and public installations like that in MIA and Regan National inspired by Miami Beach, she wrote the book on Miami Beach… literally.
Finally, Facundo L. Bacardi, the great great grandson of Bacardi's founder talks about the Facundo Rum Collection, a new line of ultra-preium sipping rums that will change the perception of rum. "Growing up, people said [to me] 'Why don't you guys release some of the rums your family drinks?'" says Facundo. "Being young, I thought that we released everything." They didn't, instead holding back some of the finest rums for the family. "Our 150th anniversary seemed like the right time to share it."