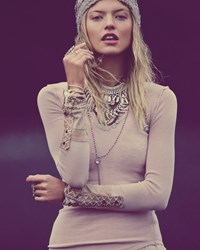 Philadelphia, PA (PRWEB) November 13, 2013
Free People has given its Short Hills Mall boutique a new look. With an additional 1,000 square feet, the boutique, originally opened in 2005, now features larger fitting rooms, an updated cashwrap, and an increased amount of merchandise. Finishes and décor have also been updated to match the brand's current look and feel.
The space has been designed in the brand's 'Blacksmith's Cottage' concept. The look centers around the rugged side of Free People, made to feel like a feminine studio workshop with planked wood floors, white bead board walls, white washed bricks, and blackened steel accents. The entire space has received new wall finishes including mica plaster, reclaimed bead board, and suede wash. Fitting rooms will now be located in the newly added space and have expanded to include additional rooms. The cashwrap also increased in size, adding three points of sale, and a colorful custom backwrap yarn installation.
With the additional space, Free People was able to bring in more product to meet shoppers needs. Among the added merchandise, the brand is carrying a larger assortment of Intimately Free People products. The intimates label includes pieces such as bras, undies, slips, loungewear, and layering must-haves. Short Hills customers have proven to love the label, and will be very happy to find a wider variety of the tried and true favorites.
On November 14th, Free People will be celebrating the Short Hills store remodel with a celebration from 6pm-8pm. There will be an in-store braid bar for customers, and those who participate will receive a special giveaway from Alaska Glacial Mud Co. Customers can also enjoy champagne spritzers featuring Nekter On The Rocks, sweets, and a Free People goodie bag giveaway featuring FP nail polish and Free People iPhone cases.
The store location will remain the same: 1200 Morris Tpk, Short Hills, NJ 07078. Store hours will remain consistent with the shopping center, and extended shopping hours will be in effect for the holiday season. Fans should also "like" the store on Facebook to stay up-to-date on all of the latest arrivals, events, and other happenings (https://www.facebook.com/FreePeopleShortHillsNJ).
###
About Free People
Free People is a specialty clothing brand featuring the latest trends and vintage collections for women who live free through fashion, art, music, and travel. The eclectic look consists of quality apparel, shoes, and accessories that invoke attributes of femininity, spirit, and creativity with its design. Free People is distributed globally via direct channels including the Free People Global site and Free People UK site, as well as specialty boutiques, top department stores, and the brand's free standing retail locations in the U.S. and Canada.