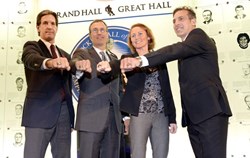 Denver, Colorado (PRWEB) November 13, 2013
It's six weeks into the 82-game regular season, but wait. It's Hall of Fame week, an extended celebration with the sport welcoming new inductees Chris Chelios, Geraldine Heaney, Scott Niedermayer, Brendan Shanahan and Fred Shero posthumously last Monday night.
Meanwhile back at the rink, the Anaheim Ducks, at 15-3-1, have been on a tear and are currently ranked atop the espn.go.com power rankings. Next on the line are the Colorado Avalanche, St. Louis Blues, Chicago Blackhawks, Tampa Bay Lightning, San Jose Sharks, Phoenix Coyotes, Pittsburgh Penguins, Minnesota Wild and Boston Bruins.
"Several NHL teams are trending at the top of sports queues, despite the heavy competition from World Cup Soccer, NBA Basketball and NFL Football tickets," said Marta Ault at online ticket market BuyAnySeat.com. "Ten NHL teams are currently ranked in the Top 25 sports ticket sellers this week."
"That's why we're proud to offer sports fans the most comprehensive and continuously updated selection of sports tickets online, with a worry-free guarantee to protect their purchase.
"To access the full line-up of NHL Hockey tickets now available, customers can go to BuyAnySeat.com and click on NHL Hockey – then select their team and their tickets," said Ault.
In terms of profiles, Chris Chelios began his career with the Montreal Canadiens in 1983 and ended with the Atlanta Thrashers in 2009 at the age of 48. In between, he played 1,651 regular season games with the Chicago Blackhawks and Detroit Red Wings – as well as Atlanta and Montreal; and he scored 948 career points on 185 goals and 763 assists. A player of many skills, Chelios is also noted for his longevity in the game.
Geraldine Heaney, known as the female Bobby Orr, is generally considered one of the greatest female hockey players ever. A member of seven gold medal-winning teams at the IIHF World Championships, Heaney collected three MVP Awards from the Ontario Women's Hockey Association, as well as six provincial championships with the Toronto Aeros. She was also a member of two Olympic Medal winning teams, scoring gold at the 2002 Salt Lake City games and silver at the 1998 games in Nagano.
Like Heaney, Niedermayer was also known for his supreme defensive skills. A strong, smooth skater, he was known for causing mayhem for opposing teams. Niedermayer went on to win four Stanley Cups, which included guiding the Anaheim Ducks to their first championship in franchise history. He amassed 740 points on 172 goals and 568 assists over 1,263 career regular season games.
Before becoming known as an enforcer, Brendan Shanahan established himself as a skilled forward with a toughness to match. He played in 1,524 career regular season games and amassed 2,489 penalty minutes. His 656 goals and 698 assists for 1,354 regular season points also helped his candidacy, as well as his several career highlight reel goals, many of which were scored in the biggest games on the brightest stages.
"Win tonight and walk together forever," one of the best known quotes in hockey, was coined by Shero, who led the Philadelphia Flyers to consecutive Stanley Cups in the early 70's. Nicknamed "The Fog," Shero was known for his way with words, as well as his aloofness. After leading the Flyers for seven seasons, he moved north to coach the New York Rangers for three seasons. Shero passed away on Nov. 24, 1990 and will be inducted posthumously. His son, Ray, is the general manager of the Pittsburgh Penguins.
The remaining inductees are still involved in the game, including Chelios as an adviser for the Detroit Red Wings, Heaney as the coach of her daughter's team, Niederdmayer as an assistant coach for the Anaheim Ducks, and Shanahan as Senior Vice President of the NHL's Department of Player Safety.
To shop for discount NHL Hockey tickets, visit BuyAnySeat.com.
About BuyAnySeat.com: An online ticket marketplace, BuyAnySeat.com connects sports, theater and other live entertainment fans to an extensive network of ticket sellers worldwide. The site's simplified listings and navigational tools enable shoppers to easily locate, compare and purchase inexpensive, discounted or lower-priced tickets to virtually all advertised sports and entertainment events around the globe.
In addition, the ticket marketplace, which is PCI-compliant and Norton Secured, also provides customers with a complete Worry-Free Guarantee on all ticket purchases. Based in Denver, Colorado, BuyAnySeat.com is a subsidiary of Denver Media Holdings. For more information, please visit http://buyanyseat.com.