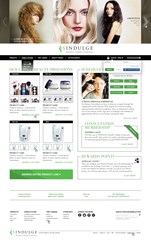 "I believe that everybody deserves to look their best. Sometimes, that takes a little guidance," said celebrity makeup artist Troy Jensen
Los Angeles, CA (PRWEB) November 14, 2013
The premier, cruelty-free online beauty destination Sindulge launches its revolutionary "live" consultation feature for guests at http://www.Sindulge.com. Users can now visit the redesigned site to receive beauty advice from a trained professional makeup artist and skin care expert in lieu of making a trip to the makeup counter at the mall or salon. Now, the personal beauty counter experience is at the end of a mouse click.
The consultations will help Sindulge beauty experts devise a personal skincare and makeup regimen for all users, both women and men, which can be found in a personal beauty profile. Users can view consultants' profiles and videos, and choose which consultant they would like to speak with during their consultation. The feature has a built-in integrated video functionality similar to Skype so the user does not have to install any software on the computer. Text consultations are also available to those without a camera. Scheduling the consultations is made easy with a click-and-go calendar. See what times are available Monday through Friday, 8 am to 6 pm. The once-a-month consultations are offered in 15 minute increments, where one of three makeup artists will focus on goals, application and lifestyle. Each makeup artist has extensive retail store and private client experience, and is very knowledgeable in trending products and styles, skin care, as well as men's grooming products.
Co-founders Jaivin Karnani and Dinesh Mirchandani agree, "Sindulge aims to take personal beauty to the next level for users everywhere. That's the idea behind the Live Consultations. Users receive a professional perspective from an expert, and they can do it from the comfort of their own homes. Beauty starts at home, and we want to keep it there."
Renowned celebrity makeup artist Troy Jensen collaborated with the company to create the consultation process and profile questions. About Sindulge, he comments, "I believe that everybody deserves to look their best. Sometimes, that takes a little guidance. That's where we came up with the idea of the consultations. This is your chance to find the right look. I want all 'Sindulgers' feeling red carpet-ready."
Sindulge offers a myriad of cruelty-free beauty products, including Clarisonic, Kevyn Aucoin, Dr. Brandt, Cargo, Lab Series, and many more. From makeup to skin care and hair care to fragrance, the outlet boasts high quality products that keep our four-legged friends in mind. This is beauty at its most refined and evolved. Now, everybody can participate in the company's mantra, "Beautiful, Confident, Cruelty Free."
Visit the site now for your first consultation at http://www.Sindulge.com. Enter the promo code: SINDULGEBEAUTY to receive a free consultation for the first month.
About Sindulge:
Sindulge prides itself as a premier resource for cruelty-free cosmetics. Through its live consultations feature, the brand provides simple and convenient opportunities to consumers searching for a beauty regimen that fits their everyday needs. The company's mission is to inspire confidence, one person at a time.
Media Contact:
Courtney Pisarik
ink PR
Courtney(at)inkprgroup(dot)com
(310) 860-0806