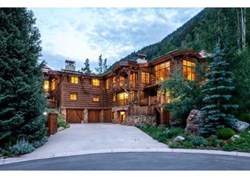 Vail Colorado (PRWEB) November 19, 2013
Each year, the offices of Coldwell Banker Distinctive Properties hosts the annual Parade of homes towards the end of summer and this year, 2013; the parade was held Saturday, August 31 from 1:00 PM to 4:00 PM. The route started West of town just south of the Bellyache Ridge East and traveled west just past the Vail Golf Club along I-70. The parade included 8 luxury homes in Vail priced from $665,000 to $3,495,000. These homes offered luxury furnishings, custom design and large layouts with detailed touches distinct to the environment.
Guests traveled from one home to the next sampling treats and refreshments and touring these luxury estates. These homes are either seasonal, recreational or permanent depending on the owner. Some homes included luxury condos such as Lion Square North #286 which listed for $899,000 and offered 1 bedroom, 2 bath and on-site amenities close to the slopes and shops.
From exquisite cabins decked out in the native flair to modernistic masterpieces, Coldwell Banker was pleased to present these 8 homes on the successful Parade of Homes this year. These homes are either active listings, pre-sales, or recently sold homes in the area.