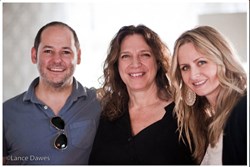 Casting is 95% of the picture, says Martin Scorsese.
Los Angeles, CA (PRWEB) November 14, 2013
Top names in casting from Hollywood and the U.K. will appear in person at screenings of the new documentary "Casting By" at Arena Cinema in Hollywood. "Casting By" examines the history and process of casting for feature films and television, with a special focus on the achievements of the late great casting pioneer Marion Dougherty.
This weekend at Arena Cinema Hollywood, top casting directors from Films and Television
lend their support for the film by appearing at Q&A's following screenings.
FRI 11/15 7:45PM:
Deborah Aquila (Jack Ryan: Shadow Recruit, Higher Power)
Wallis Nicita ( WarGames / Caddyshack / Escape from Alcatraz)
Robin Lippin (Swelter, Olive)
Cathy Sandrich (Low Winter Sun, Magic City)
SAT. 11/16 12PM
Gary Zuckerbrod (Unforgettable, Rizzoli and Isles)
Marci Liroff (Mean Girls, Vampire Academy)
SAT. 11/16 2PM
Richard Hicks (Gravity, Zero Dark Thirty, On the Road)
SAT. 11/16 7:45PM
April Webster (Star Trek Films, New Star Wars Film, Tomorrowland)
Barbara McCarthy (Celeste and Jesse Forever, The Spectacular Now)
SUN. 11/17 12PM
Roger Mussenden (X-Men: Days of Future Past, Grudge Match)
John Papsidera (Interstellar, Transcendence, Ray Donovan)
Julie Hutchinson (SVP Features Casting Universal)
Debra Zane (The Hunger Games Films, Twilight Breaking Dawn 1 & 2)
SUN. 11/17 2PM
Heidi Levitt (The Artist, Chavez, Ginger & Rosa, Nina)
Deb Barylski (The Middle, Dirty Work)
Ronna Kress (Saving Mr. Banks, Out of the Furnace)
SUN. 11/17 7PM
Risa Bramon Garcia (Showtimes' Masters of Sex)
Caroline Liem (The Occupants, X2, Blade: Trinity)
CASTING BY features Martin Scorsese, Woody Allen, Clint Eastwood,
Glenn Close, Robert Duvall, Jeff Bridges, Al Pacino,
Robert De Niro, Diane Lane,Jon Voight, Danny Glover, Bette Midler, John Travolta
are just some of the names in this celebrated new documentary film.
Advanced Tickets Highly Recommended Showtimes and Info at http:/arenascreen.com
"Casting By" runs Nov. 15th-24 at Arena cinema Hollywood
Arena Cinema, 1625 N. Las Palmas Ave.
Hollywood, CA 90028 (Entrance Back Gate)
Just Next Door to Egyptian Theatre. Admission is $12.00
Showtimes and Advanced Tickets at http://arenascreen.com
Convenient parking adjacent to theater and across the street ($5 with validation).
About Arena Cinema
Arena Cinema is a 92 seat venue just next door to The Egyptian Theatre in Hollywood. Arena showcases independent films. Formally a part of the historic Egyptian theater in the 1970s and 1980s when the venue was known to LA moviegoers as Egyptian 2 & 3, it is now a re-established independent platform powered by Voltaire Media.
ABOUT VOLTAIRE MEDIA
Voltaire Media has a focus on film distribution marketing strategy, social trends, brand identity development, corporate design, social media, strategic marketing concepts for clients in film, theatre, music, photography and television entertainment. We create strategic media campaigns, digital media planning, community relations and brand management, online reputation management, social network marketing, social media, content syndication, promotions, and online marketing.