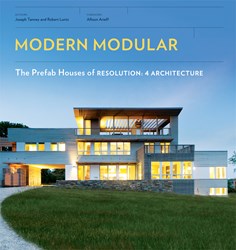 For RES 4, Prefab is not a gimmick but rather a tool in its already packed arsenal of good ideas. - Allison Arieff
New York, NY (PRWEB) November 13, 2013
The MODERN MODULAR is a systematic methodology of design that attempts to leverage existing methods of prefabrication to produce custom modern homes, specific to each client and site. These efforts offer an option of 'Mass Customization' to the single-family housing market, thereby potentially transforming the sub-urban fabric of the American domestic landscape.
Based on the MODERN MODULAR, Resolution: 4 Architecture (RES4) won an International Competition in 2003 for a modern prefabricated home, The Dwell Home. It has been noted by the Washington Post as the "highest profile modern prefabricated home in America," and is considered the "Holy Grail" for modern prefab enthusiasts by the Wall Street Journal.
As a small architectural practice, Resolution: 4 Architecture's focus has been the design of highly efficient, cost-effective, idea-driven spaces. Now, having designed over 120 homes using modular, panelized, and hybrid delivery methods, Resolution: 4 Architecture is considered one of the most prolific prefab architectural firms in the country. Their new book, with a foreword by Allison Arieff, features fourteen photographed case studies illustrating their process from design and fabrication to final construction.
About Resolution: 4 Architecture
Founded in 1990 by Joseph Tanney and Robert Luntz, Resolution: 4 Architecture has been internationally published and highly acclaimed, completing projects in the residential, commercial, and public realms. The work of RES4 has been featured in popular magazines such as WIRED, Time, Newsweek, and Food and Wine; shelter magazines such as Dwell, Metropolitan Home, Wallpaper, Azure, and House and Garden; architectural publications such as Architectural Record, Architectural Review, Architectural Digest, Architecture, Domus, LaRCA, and Interni; and media such as CNN, Nightline, CBS Morning News, HGTV, DIY, and The Travel Channel. Their firm's work has been exhibited in museums including the Museum of Modern Art in New York, the Hammer Museum in Los Angeles, and the Walker Art Center in Minneapolis.
RES4 has also received critical recognition within the profession. In addition to recently receiving 2013 and 2012 Connecticut AIA Design Awards, the MODERN MODULAR has received a 2005 American Architecture Award, a 2006 National AIA Housing Award for Concepts in Innovative Housing, and a 2006 Honor Award for Housing Design Research from the Boston Society of Architects and the AIA New York Chapter.