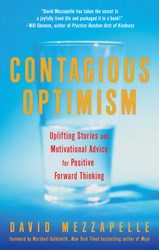 (PRWEB) November 13, 2013
David Mezzapelle, author of the bestselling Contagious Optimism: Uplifting Stories and Motivational Advice for Positive Forward Thinking, was recently featured on Care2, a website dedicated to impacting the causes people personally believe in most.
In his article on learning how to embrace experiences, Mezzapelle writes, "Do not regret the past, as difficult as that may be. The past is behind you with nothing but knowledge in its wake. You can't change the past, so why not make it an educational tool no different than when you first learned to ride a bike? Share your stories and pay forward your wisdom. Hearing stories of perseverance gives people hope. Such narratives tell people that they are not alone and that they will ultimately prevail."
What people are saying about Contagious Optimism:
"Nearly every story is excellently composed and straightforward; readers are sure to find something to connect with. Frequent bits of encouraging advice, insights, and practical exercises make Mezzapelle's message digestible and relevant, and perfect for daily perusals."
—Publishers Weekly
"People often accuse entrepreneur David Mezzapelle of being contagiously optimistic. For example, he often talks about "life carrots": something great in front of you that you can reach. He now shares his vision in this book about "positive forward thinking," which includes more than 100 uplifting stories and parables written by Mezzapelle and dozens of other contributors."
—The Intelligent Optimist
"David Mezzapelle has taken the secret to a joyfully lived life and packaged it in a book that is indeed so contagious you can't help but be infected. Once you are exposed to the power of kindness and positive thinking towards yourself and others will be with you forever."
—Will Glennon, co-author of Random Acts of Kindness
Contagious Optimism
Uplifting Stories and Motivational Advice for Positive Forward Thinking
By David Mezzapelle
Contagious Optimism includes stories, advice, actions and insights from business leaders, visionaries, professionals and just plain folks. David Mezzapelle believes that we all have the capacity to make optimism contagious just by sharing our life's adventures, and he's found a group of unstoppable optimists who have made their lives exactly what they want them to be. Contagious Optimism is also available as an audiobook. David was inspired to write this book based on his life's experiences, his contagious optimism, and the encouragement of his Alma Mater, Fairfield University in Connecticut. A portion of each sale will go to the school.