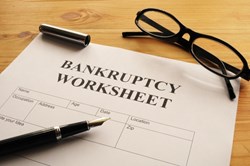 Most people think bankruptcy will take away everything you have... that's just not true.
Bellevue, Washington (PRWEB) November 19, 2013
Jonathan Smith has been a regular guest on the Seattle based television program, New Day, for some time and typically discusses foreclosure situation and short sale applicants. Recently, Jonathan touched on the topic of bankruptcy and the negative implications as well as the benefits to certain types of bankruptcies.
Smith mentions the three basic types of bankruptcy; Chapter 7, Chapter 13, and Chapter 11, each offering variations of bankruptcy depending on the situation and applicant. The majority of applicants apply for Chapter 7 which typically takes about 90 days. Smith says that applicants must qualify, however, for all of these bankruptcies which vary depending on household, married or single and income level. Other restrictions involve no prior bankruptcies for the past 8 years.
"Many times people feel that they will lose everything should they apply for a bankruptcy but that's not the case," Smith says. Washington state offers a variety of exemptions for property, jewelry, auto and trade tools as well as actual money in the bank.
"If you're being harassed or finances are causing foreclosure or divorce, a bankruptcy may be the best option and can offer benefits for the immediate and long-term future but not knowing the options can be the worse feeling," Smith states.
Advantage Legal Group in Bellevue handles hundreds of bankruptcy cases each year and discusses benefits both immediate and long term for potential applicants.