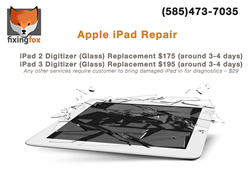 Fixing Fox currently services and repairs the Apple iPad2, Apple iPad Retina or iPad 3 (Third Generation), the Apple New iPad (iPad 4 or 4th Generation) and soon to mend the iPad Air.
Rochester, NY (PRWEB) November 13, 2013
A local computer repair facility called Fixing Fox decided that they will continue their efforts to provide high quality computer repair and services at the lowest possible cost. One major item that most people are consuming that is also very delicate is Apple iPads. Apple iPad accidents are common, however not many repair facilities specialize in mending them. "It is never an easy fix, it involves broken glass and lots of glue, not to mention very delicate ribbons that sit right underneath the frame that can break very easily," mentions David from Fixing Fox Computers.
With highly trained technicians, Fixing Fox has established research and development program ensuring that all technicians know these iPads in and out. Fixing Fox technicians have become so accustomed to the popular Apple tablets, that if one were given all the parts of the iPad on the table, they would be able to build one from scratch without the use of novice manuals.
Fixing Fox currently services and repairs the Apple iPad2, Apple iPad Retina or iPad 3 (Third Generation), the Apple New iPad (iPad 4 or 4th Generation) and soon to mend the iPad Air. Common occurring problems are usually the iPad digitizer replacement or as most people call iPad Glass assembly replacement; in addition, Apple iPad problems that can be fixed, such as iPad LCD replacement, iPad water damage or even if an iPad is not turning on. In some cases, diagnostics may be needed to identify the issue and it is only $29 at Fixing Fox in the Village of Pittsford.
Having your iPad fixed or serviced may be a more affordable solution than buying a new one or getting it replaced through Apple. Fixing Fox has decided to display most of their repair prices right on their website. As an example, to have your digitizer or glass replaced on an Apple iPad 2 costs a total price of $175, since the market value of the iPad 2 is still hundreds more, it may be a smarter investment, considering that Fixing Fox offers a 1 year limited manufacture warranty on all parts.
There are many places claiming they can fix Apple iPads in a few hours or just in one day. Fixing Fox technicians have insightfully explained that this is not always the case, since it may take up to three days in order for the repair work to be done properly. For instance, once the new digitizer goes onto the iPad that is being repaired, it needs to stay under pressure at least overnight in order to assure that the adhesive that holds the iPad together sits properly. By cutting repair time, companies may even promise a cheaper repair and faster service but that may just mean that they could be cutting corners and compromising the tablets engineered design. An iPad that is not repaired properly can mean that in only a few weeks, other problems may arise and that tablet may be lost forever along with the money spent.
Fixing Fox technicians always make sure the work is completed properly even if it means it will take that extra day. "By taking our time and doing the work properly, at the end both parties are benefited. The consumer is happy that their product looks good and performs properly. For us (Fixing Fox) it means we will not have to re-do a job and move on with our very busy schedule. This is the key to our success and we will keep striving to perform quality work at the lowest possible prices," mentions Arthur from Fixing Fox computer store in Pittsford NY.