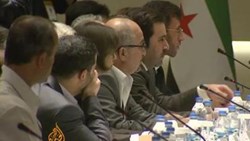 The success of the interim government is critical to ensuring that Syria is on a path toward democracy and good governance.
Washington, DC (PRWEB) November 12, 2013
The Syrian American Council (SAC), the nation's largest Syrian American community organization, welcomes the creation of an interim government for Syria's liberated areas. The National Coalition for Syrian Revolutionary and Opposition Forces, known as the Syrian Coalition or "Etilaf" in Arabic, approved the creation of this governing structure and confirmed its cabinet ministers at a meeting in Istanbul this past weekend.
Read more about Etilaf's meeting in Istanbul and the creation of the interim government here: http://www.aljazeera.com/news/middleeast/2013/11/syria-opposition-coalition-picks-cabinet-2013111261443871405.html
SAC welcomes the creation of this much-needed administrative body. On behalf of the Syrian American community, SAC calls on the American government to offer Syria's new interim government their full support and recognition. The need for governance and the effective delivery of aid and services in the liberated areas of Syria is staggering, and the ministers of the new interim government face a monumental task. In order to succeed, they will need the support of the international community.
"The interim government was created with two goals in mind," said SAC's President, Dr. Talal Sunbulli, "First, it seeks to realize the aspirations of the Syrian people for a free society, and for a government that serves them, instead of one that suppresses them. Second, the interim government seeks to counter the influence of violent foreign extremism that has been slowly spreading in the ungoverned areas of Syria. It is well known that extremist ideology prospers in chaotic situations where people are desperate. The interim government will work to bring order, much-needed services, and hope to the liberated areas, and in so doing will counter violent extremism. But neither of these goals can be achieved without support and financial assistance from the international community."
"The success of the interim government is critical to ensuring that Syria is on a path toward democracy and good governance," added Mohammed Alaa Ghanem, SAC's Director of Government Relations. "Bringing order to the liberated areas will clearly demonstrate to Syrians that a future Syria without Assad will be effectively governed and inclusive. It will also bolster the credibility and popularity of moderates as they make an immediate difference in the lives of millions of Syrians. We were pleased with the vision Dr. Ahmad Touma, the Interim Prime Minister, laid out in his inaugural speech earlier today. The interim government's proposed budget is modest; it is critical that the international community give it the resources it needs to succeed."