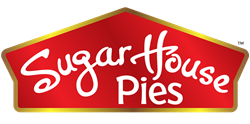 Salt Lake City, Utah (PRWEB) November 13, 2013
Desserts and pastries are common attributes to family gatherings and holiday events. Pumpkin flavored treats serve as a main staple during Thanksgiving and the pecan and apple variety tend to make more appearances around Christmas. As leading pie manufacturers, SugarHouse is supplementing the holiday cheer through new flavors and varieties of their store sold desserts. The frozen dessert suppliers are known for their 'thaw and serve' or 'bake and serve' varieties, providing a large assortment to shoppers year round. The addition of these new flavors is proving to satisfy holiday cravings; their sales are hitting record high numbers.
Apples, cinnamon, and nutmeg have always combined around the holidays to produce a family favorite. SugarHouse is putting a spin on the traditional apple that is sure to stop the carts of shoppers everywhere. Topping the filling with a cinnamon crumb overlay and caramel drizzle, the Caramel Apple flavor is leading the way for holiday pastries. It's smooth taste and rich flavor falls in line with the made from scratch motto of the company, who utilize classic techniques and modern technology to create something delicious. This 'bake and serve' option provides an easy dessert for any occasion and is sure to please even the pickiest eaters.
Another flavor from the pie manufacturers that is making its introduction into the holidays is their Sea Salt Caramel French Silk. This twist on the classic French Silk still possesses the creamy and rich taste of the traditional chocolate flavor. However, salt and caramel are lightly added to the mix, allowing for a subtle hint of unique flavor to shine through. The flavor has seemed to strike a cord with the consumers, immediately landing among SugarHouse's best sellers. The 'thaw and serve' pie is as simple as desserts go, allowing individuals to slow down through the holiday rush and still produce something delicious for their guests.
The frozen dessert suppliers pride themselves on creating made from scratch tastes for grocery store shoppers. Their pies are all crafted with time tested homemade techniques, providing satisfactory taste and presentation. Their large selection is sure to please even the pickiest pastry lover. For more information about their flavors or holiday selection, visit their website at http://www.sugarhousepies.com.