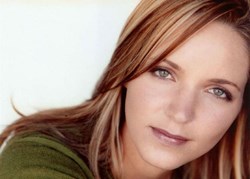 Shoot the Stars is a very unique program. Our students are writers and directors, crewing up on and even producing these short films.
Santa Fe, NM (PRWEB) November 13, 2013
The Film School at Santa Fe University of Art and Design (SFUAD) will host film actors Richmond Arquette and Jordana Spiro on campus Nov. 18–22 for the second annual Shoot the Stars program. Arquette and Spiro will play characters in two student-written and student-directed short films, Dead Celebrity and Mister Stapleton. Arquette is known for his roles in films such as Se7en, Fight Club and The Curious Case of Benjamin Button, and Spiro for Trespass and television shows including My Boys, The Mob Doctor and Dexter.
Written by Zoe Dahman ('16) and directed by Seth Fuller ('14), Dead Celebrity is the story of a lonely young woman, Lauren Jacobs (Spiro), who is given the chance to bring one person back from the dead for 24 hours. She chooses to bring back TV actor Jake Carter (Arquette) from her favorite childhood show—only to discover that the emotional baggage he's carrying is more than she bargained for.
In Mister Stapleton, a desperate student, Marcia Mulrooney (Spiro), breaks into her professor's house at 3 a.m. to plead for a passing grade—her ticket to graduation and a prime internship. Professor Anthony Stapleton (Arquette) and student engage in a comic battle of wits as the clock ticks down towards graduation. The story was written by Baxter Smith ('15) and directed by Josh James ('14).
"Shoot the Stars is a very unique program," said Chris Eyre, chair of The Film School at SFUAD. "Our students are writers and directors, crewing up on and even producing these short films. Coupling our students with that level of professional experience and mentorship is priceless."
Students will work with professional mentors from the film industry across all major departments, including cinematography, directing, grip and electric, production, sound, and hair and makeup. In addition to the main productions, students create a number of promotional videos and "behind-the-scenes" mini-documentaries to support Shoot the Stars.
"This year, more than 120 students are participating in everything from directing to craft services, to scouting locations and serving as directors of photography," said Paula Amanda, associate chair of the Film School and director of Garson Studios. "The excitement in the department is palpable as students and faculty members put together this professional production outside of classes and the normal high intensity of the Film School."
Film students also had the opportunity to make films with leading screen actors as a part of the university's inaugural Shoot the Stars program in December 2012. In addition to writing the scripts, students worked closely with top Canadian independent film and TV actor Luke Kirby (Take This Waltz, also starring Michelle Williams and Seth Rogen) and actor Wes Studi (Avatar, The Last of the Mohicans and Dances With Wolves).
For updated information on the progress of this year's productions, visit the Tumblr pages for Dead Celebrity and Mister Stapleton, as well as the Film School's Facebook page.
About The Film School at SFUAD
The Film School at Santa Fe University of Art and Design offers a relevant, hands-on BFA curriculum that emphasizes production skills, business savvy, and storytelling across multiple film and video platforms. Films such as True Grit and Cowboys & Aliens and TV dramas such as Longmire have been shot at the university's Garson Studios, where students have the opportunity to intern on professional productions on two motion picture soundstages—at 14,000 and 7,500 square feet. The Film School also has its own 2,200-square-foot soundstage and green screen, as well as a professional set from The Sunset Limited. The Screen, a popular destination within the Garson Communications Center, shows some of the greatest works of world cinema daily for students and the public.
About Santa Fe University of Art and Design
Santa Fe University of Art and Design is an accredited institution located in Santa Fe, New Mexico, one of the world's leading centers for art and design. The university offers degrees in arts management, contemporary music, creative writing, digital arts, graphic design, film, performing arts, photography and studio art. Faculty members are practicing artists who teach students in small groups, following a unique interdisciplinary curriculum that combines hands-on experience with core theory and prepares graduates to become well-rounded, creative, problem-solving professionals. As a Laureate International Universities Center of Excellence in Art, Architecture and Design, the university boasts an international student body and opportunities to study abroad, encouraging students to develop a global perspective on the arts. Santa Fe University of Art and Design is accredited by The Higher Learning Commission and a member of the North Central Association, http://www.ncahlc.org.