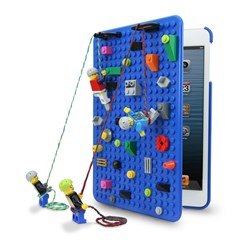 LEGO bricks are a universal symbol of childhood fun. When you put a BrickCase on your iPhone or iPad mini, everyone will instantly smile at you.
Austin, TX (PRWEB) November 19, 2013
It's time to break out the bricks and start building! SmallWorks is pleased to announce the newest member of the BrickCase product line, the BrickCase for iPad® mini. The BrickCase is a LEGO® brick and element compatible snap-on hard case for the iPad mini. The BrickCase is the first iPad mini case on the market that is designed with an edge-to-edge studded baseplate building surface.
The iPad mini BrickCase has all of the standard features Apple owners expect from a thoughtful, well-engineered case: soft microfiber lining to protect the screen, built in magnets to activate the iPad mini's sleep/wake function, full access to the camera, control buttons, and ports with a wraparound polycarbonate shell for protection. LEGO brick fans will be thrilled with the edge-to-edge baseplate surface in iconic red, blue, and green colors matched to coordinate perfectly with LEGO bricks and elements. Our PLAYS WITH BRICKS™ guarantee ensures the BrickCase for iPad mini works with LEGO, Kre-O®, or MegaBloks® bricks and other compatible brick building systems.
LEGO brick fans can attach bricks and elements to the studs on the BrickCase baseplate to bring their imagination to life on top of their iPad mini. This super fun, hard-shell case inspires creativity while protecting an iPad mini on the go. The SmallWorks BrickCase for iPad mini is sure to generate excitement in LEGO fans of all ages.
The BrickCase for iPad mini is available now for $39.99 through select retail locations, and online at SmallWorks.com, Amazon.com, and Amazon.co.uk.
About SmallWorks:
SmallWorks designs and manufactures LEGO compatible cases with the goal of bringing a smile to a child's face whether they are 10 or 101. All SmallWorks BrickCase products reflect the simple fun and delight everyone finds when building and playing with LEGO bricks. Three years and thousands of enthusiastic customers later, SmallWorks continues to give mobile device users fun and creative ways to show off their love of building with interlocking plastic bricks. For more information, visit us at http://www.SmallWorks.com.
About the Inventor:
In 2010, 12 year old Hunter Thompson attended the 100th Boy Scout Jamboree representing Hawaii's Aloha Council. Since he was 5000 miles from home, his parents loaned him an iPhone 3G in case of emergencies. Returning from the Jamboree, Hunter declared: "This phone would be cooler if it had LEGO bricks on the back. I could have played with it on my trip." Recognizing the light bulb moment, Hunter's parents set about assisting him with bringing his idea to life. With the help of an industrial designer and a plastics molding engineer, Hunter's vision for the world's first LEGO compatible iPhone case became a reality.
Photo Gallery: http://www.smallworks.com/pages/image-bank
Contact:
Jamie Thompson or Keressa Jones,
+1 512 646 4100
Pr(at)smallworks(dot)com
Source: Rubicon Communications