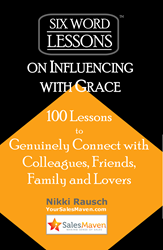 Puyallup, WA (PRWEB) November 14, 2013
In her newly published book, Six-Word Lessons on Influencing with Grace, first-time author Nikki Rausch offers expert advice on developing and influencing relationships, sharing communication techniques learned during her 20 year career as a sales executive, trainer and business mentor.
Written in a crisp style and easy-to-follow format, Six-Word Lessons on Influencing with Grace gives 100 brief lessons on improving interpersonal communications and positively influencing relationships in all aspects of life—with customers, colleagues, friends, family, life partners, even one's self.
Throughout her career, Nikki has seen first-hand the impact that both negative and positive communication habits have on relationships.
"How we communicate profoundly affects the success of our relationships. Each of us has the ability to influence others with our words and behaviors. Learning to communicate in a genuine, graceful and positive way improves our relationships, and ultimately our quality of life, both personally and professionally," Nikki says.
"As a business mentor and sales coach, these are proven techniques I teach my clients every day."
The book discusses methods for mastering interactions in professional and personal relationships, covering a wide range of topics such as:
~ Making a positive first impression and remembering names easily
~ Addressing difficult situations and communicating bad news
~ Providing meaningful feedback without offending the recipient
~ Using storytelling effectively in business presentations
Six-Word Lessons on Influencing with Grace--100 Lessons to Genuinely Connect with Colleagues, Friends, Family and Lovers, from Pacelli Publishing, is available from Amazon in paperback for $9.45, and for Kindle for $9.95. It will also be available on iTunes and Nook in the coming weeks.
About The Author
Nikki Rausch is an award-winning sales executive, trainer and manager. During her 20 year sales career, she has gained extensive knowledge about the art of conducting business successfully and developing effective interpersonal communications. Nikki founded her company, Sales Maven, to share her expertise via one-to-one mentoring, sales coaching, and customized sales team training. Through Sales Maven, Nikki also provides detailed customer experience evaluations for small businesses and entrepreneurs.
# # #
Contact: Nikki Rausch | Email: nikki(at)yoursalesmaven(dot)com | Phone: (360) 509-6399