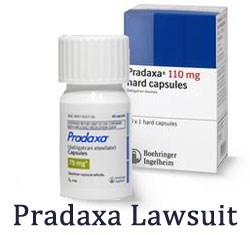 If you or someone you love has experienced Pradaxa bleeding or hemorrhaging due to Pradaxa visit yourlegalhelp.com, or call 1-800-399-0795 for a free legal consultation
Columbus, OH (PRWEB) November 13, 2013
As The Courts Continue To Receive Pradaxa Lawsuits, Wright & Schulte LLC Files A Pradaxa Internal Bleeding Lawsuit Aleging A Woman's Wrongful Death Was From a Gastrointestinal Hemorrhage Due To Pradaxa
Pradaxa internal bleeding lawsuits alleging serious injury and wrongful death due to Pradaxa bleeding side effects continue to mount in courts around the country, Wright & Schulte LLC reports. According to court documents filed in U.S. District Court, Eastern District of Pennsylvania, the most recent Pradaxa internal bleeding wrongful death claim was filed by two daughters who allege that a fatal gastrointestinal hemorrhage suffered by their mother was the result of Pradaxa. (Case No. 2:13-cv-06488-GP)
According to the Pradaxa lawsuit, the Plaintiffs' mother began taking the blood thinner in early 2012 to treat non-valvular atrial fibrillation, a disorder associated with an increased risk of stroke. Four months after the drug was first prescribed, the woman to suffer a gastrointestinal hemorrhage and subsequently died after being taken to the Hospital of the University of Pennsylvania. The complaint asserts that the "excessive and/or uncontrollable bleeding" suffered by the woman and which resulted in her death "was caused and/or worsened by Plaintiff's use of Pradaxa."
The complaint further alleges that Boehringer Ingelheim Pharmaceuticals, the manufacturer of the drug, over-promoted Pradaxa, and knew or should have known that Pradaxa's original labeling did not adequately disclose its risks, including the fact that there is no reversal agent currently available to stop Pradaxa bleeding. Finally, the Pradaxa lawsuit alleges that due to her use of Pradaxa, the decedent suffered physical pain, mental anguish, the need for lifelong medical treatment and eventual death. It seeks both compensatory and punitive damages for counts of strict products liability, negligence, negligent misrepresentation and/or fraud, breach of implied and express warranties, negligence per se, and fraudulent concealment.
Bloomberg News reported late last year that Pradaxa's risk of life-threatening internal bleeding has prompted regulators in several countries to issue safety alerts for the drug. According to the Pradaxa lawsuit filed in Pennsylvania, Pradaxa was touted by its manufacturer as being safer than warfarin, an anti-coagulant which has been in use for decades. But while both blood thinners can cause episodes of serious internal bleeding, the Bloomberg report pointed out that hemorrhaging from warfarin can be easily stopped with the administration of vitamin K.
[bloomberg.com/news/2012-12-11/boehringer-sued-by-hundreds-over-bleeding-tied-to-pradaxa.html; Bloomberg, December 11, 2012]
According to Wright & Schulte LLC, the recently filed Pradaxa internal bleeding lawsuit echoes allegations made in hundreds of similar Pradaxa bleeding lawsuits now pending in a federal multidistrict litigation underway in U.S. District Court, Southern District of Illinois. The litigation's first trial of a Pradaxa lawsuit is scheduled to begin on August 11, 2014, foll¬¬owed by trials on November 3, 2014, January 5, 2015 and February 6, 2015.
[ilsd.uscourts.gov/mdl/mdl2385.aspx]
For more information on Pradaxa lawsuit like us on Facebook.
Wright & Schulte LLC is already representing plaintiffs in Pradaxa lawsuits that have been filed in the federal multidistrict litigation, and continues to offer free legal consultations to alleged victims of Pradaxa bleeding side effects. For more information on filing a Pradaxa bleeding lawsuit, or to arrange for a free legal consultation, please visit yourlegalhelp.com.
About Wright & Schulte LLC
Wright & Schulte LLC, an experienced personal injury firm, is dedicated to the belief that America's legal system should work for the people. Every day, the attorneys of Wright & Schulte LLC stand up for the rights of people who have been injured or wronged and fight tirelessly to ensure that even the world's most powerful corporations take responsibility for their actions. If you're looking for a law firm that will guarantee the aggressive and personal representation you deserve, do not hesitate to contact Wright & Schulte LLC today. Free Pradaxa lawsuit case evaluations are available through yourlegalhelp.com or by calling 1-800-399-0795.
Contact:
Wright & Schulte LLC
812 East National Road
Vandalia, Ohio 45377
1-800-399-0795
http://www.yourlegalhelp.com