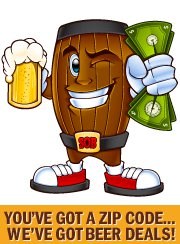 At SaveOnBrew, we say: relax! Stay home, invite some friends over, and split a couple 24-packs!
Houston, TX (PRWEB) November 13, 2013
Every year, SaveOnBrew.com, the world's only beer price-search engine, releases a report on beer price trends in NHL hockey arenas across the country. The new infographic shows that the best deal on beer can be found at Verizon Center, home of the Washington Capitals - at $8.00 for a generous 24 ounce beer (33 cents per ounce).
However, this year, fans of the Colorado Avalanche can rejoice in the fact that they are no longer drinking the most expensive arena beer. Madison Square Garden, home to the New York Rangers, charge a whopping $8.75 for a meager 12 ounce beer (or 73 cents per ounce). Last year, a 20 ounce beer cost just $7.50 (38 cents per ounce) at the Garden.
"You would think the arenas would be looking for ways to make it up to fans after last years strike-shortened season," said SaveOnBrew founder Mark Davidson. "Yet, in many of the arenas we looked at, the arenas raised beer prices – quite dramatically – to make up for the lost revenue."
There were a few arenas that responded to the fans' demands for more affordable beers. For instance, the Scottrade Center – home of the St. Louis Blues -- charged the $7 for a twelve ounce serving last year, where this year a 20-ounce serving can be had for the same price, giving fans a little more value for their money.
According to the survey, fans could still buy 3 beers for under $20 at PNC Arena, SAP Center, Canadian Tire Center, Consol Energy Center, Tampa Bay Times Forum, Joe Louis Arena, Nationwide Arena and Bell Centre.
"On the other hand, if you're going to see the NY Islanders play, better plan on spending almost $30 for three beers," Davidson says. "At SaveOnBrew, we say: relax! Stay home, invite some friends over, and split a couple 24-packs. You'll pay less and probably have a better time without the hassle of stadium traffic and hemorrhaging money."
Before loading up on beer for the game, Davidson recommends using SaveOnBrew.Com to find the lowest local retail prices. The beer price database and the NHL infographic can be viewed on SaveOnBrew.Com.
About SaveOnBrew.Com: Founded in 2010 to help thirsty beer drinkers across the United States find the lowest advertised prices for one of the world's most popular beverages.