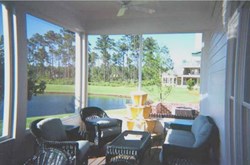 Patio screen enclosures with an insulated roof offer nearly 4 season use in the South Florida climate.
Miami, FL (PRWEB) November 13, 2013
Screen patio covers are getting the nod from more homeowners in Dania Beach, Broward County, for expanding their living space with help from Venetian Builders, Inc., says Chris Noe, company president.
"Homeowners in Dania Beach have ordered screen patio covers more than any other square-footage improvement from us so far this year," Noe said.
Dania Beach has a variety of house and neighborhood styles, Noe noted.
"In older neighborhoods, where homes are smaller on average than newer homes, a screened patio becomes an affordable, efficient way to expand living space," Noe said. "In newer neighborhoods, where square footage isn't so much of an issue, a patio screen adds to the outdoor lifestyle so many South Florida residents enjoy. In either case, patio screen enclosures with an insulated roof offer nearly 4 season use in the South Florida climate."
Miami-based Venetian installs not just patio covers, but also aluminum sunroom additions and swimming pool screen enclosures in West Palm Beach, Fort Lauderdale, Miami, the Keys and all other South Florida communities. It also offers aluminum pergolas for shade, retractable awnings for shade on demand, and aluminum wood-look lattice for privacy.
Venetian is experienced at building to exceed code in high-wind areas, such as along the coast, lakes, ponds, canals, inlets, golf courses and parks.
"That's important in Dania Beach, where so much of the city lies within designated high-wind areas," Noe said.
For homeowners on the fence about adding a screen room or a fully enclosed solarium, Venetian offers an option that lets a homeowner improve in steps. "We can engineer a patio screen enclosure to convert economically later to a window-enclosed sunroom," Noe explained. "The homeowner can upgrade when the need arises and the budget allows."
Venetian custom designs everything it installs and fabricates each structure on demand in its own facilities. "That means we can design an aluminum addition that works for a homeowner's budget, lifestyle needs, architectural style and neighorhood standards," Noe said.
Venetian estimates are free, written and detailed. No-cost in-home consultations include curbside access to the company's mobile showroom. For more information, call 866-596-2427.