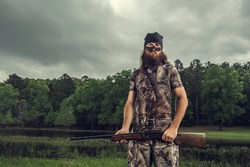 "Shooter Shield" allowing hunters to adequately protect their shoulders
Boston, MA (PRWEB) November 13, 2013
JJ Miller Photography's new Evoshield commercial titled "Shooter Shield" features Jase Robertson & Phil Robertson "The Duck Commanders" in an ad that depicts the advantage Duck Hunters have with the revolutionary "Shooter Shield." Evoshield who is an Official Protective Gear Supplier of Major League Baseball and the leading brand of custom-molding protective equipment in sports collaborated with Duck Dynasty and JJ Miller, a Boston based director and photographer to produce their 2013/2014 Marketing Campaign. The campaign is featured around the protective "shooter shield" allowing hunters to adequately protect their shoulders, reduce kick back and improve shot accuracy.
Installation is easy. Remove the EvoShield Recoil Shield out of the foil pack and slide it into the shoulder pocket of a EvoShield Recoil Shirt. Work your natural gun set into the shield for 5-10 minutes. After 20 minutes, the EvoShield Recoil Shield is permanently formed to hunters shoulder and natural gun set. EvoShield's ShooterShield shirt is designed to regulate body temperature to keep hunters comfortable in any climate. The shirt contains one pocket to slide in the Recoil Shield. The shirt and Recoil Shield are sold separately.
JJ Miller Photography previously worked with Evoshield on their 2012 national campaign featuring Redskin's Quarterback Robert Griffin III, and a 2013 campaign that included the 30-second spot "Before the Bright Lights" along with 25 interviews from 4 professional MLB athletes; Andrew McCutchen, Yadier Molina, Alex Gordon and Gordon Beckham. JJ Miller Photography is a specialized photography studio / video production company located in Boston Massachusetts.
To see more work by JJ Miller Photography, visit http://www.jjmillerphotography.com.