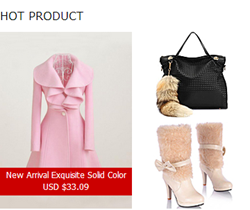 HK, China (PRWEB) November 14, 2013
Tidebuy International Limited has headquarters in Wan Chai, Hong Kong. The current product offer on the website is available through November 12th 2013, and will last for a limited period of time, after which, will be reverted to a regular price. All the products listed in the offer are either new or benefiting from a discount, so customers should be able to choose from a wider variety of products and prices.
The first category listed on the tidebuy.com website, under the Thanksgiving offer, is Ladies Coats. Listed items are there like the Exquisite Solid Color Falbala Wool Overcoat, which is a new arrival on the market. Tidebuy states that its cheap women apparel products are designed according to fashion trends, especially for ladies. On the same category, clients will find more apparel items with discounts about 50%, available for purchase.
On the second level from the Thanksgiving discounted sale, Tidebuy listed the most bought items in shoes category, decreasing the price by a considerable percent up to 75%. Some of the most sought after products in this specific category are Fashion Green Velvet Closed shoes and Magnificent Heart Metal shoes. Both products feature at the moment a 65% discount on the original price, leading to prices of $28 and $26 respectively.
The jewelry category also features discounts due to the Thanksgiving offer, allowing visitors and clients to choose from a collection of earrings, necklaces, bracelets and rings. An important part of the products listed in the above mentioned category are discounted by 70% or 65%. The bestselling elements from this part of the website are Rosy Anchor love Girls bracelet, featuring a discounted price of $9.69, and Korean Style Rhinestone bracelet, featuring an also discounted price of $1.99. The original prices are $22 respectively 5$.
Most women apparel available on the website requires a size to be specified in order to buy the product. On each product page directions and details about sizes are available, as well as a radio button list of sizes which must be used to select the right clothing size prior to acquiring the product.
Tidebuy International Limited is an international e-commerce, fashion oriented selling company, boasting around 10 million products from the company's owned factories. Tidebuy is opened for buyers around the world, totaling 200 countries within the area of sales.