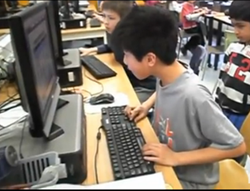 The games are really fun but are also supported by sound cognitive science.
Toronto, ON (PRWEB) November 14, 2013
Thinking Skills Club founder Mitch Moldofsky is looking for others who can do what he does: introduce schools to his website of internet games that improve learning capacity in children while having fun.
The club consists of a group of kids playing the games on the Thinking Skills Club website, which are organized into six categories: Executive Function, Problem Solving, Memory, Processing Speed, Social Skills and Attention. As kids beat the games in each category, their progress is tracked in a Brain Puzzle that grows on their school's dedicated Clup Page on the website. It can be run at lunchtime or after school, by a teacher or a local club leader trained by Moldofsky.
"I wanted something low cost that is easy to supervise, where the games are really fun but are also supported by sound cognitive science," says Moldofsky. "Anyone used to working with kids can run it."
Moldofsky tested the club at his own children's public school in Canada before opening it up for other schools to use. An early challenge he faced was finding a way to get students to play games they weren't naturally attracted to. The Brain Puzzle was developed to give them a reason to play games in each section of the site and gain mastery.
A two month Club Membership for ten to twenty students is only $40. The fee is for tracking and administration, not for playing the games themselves, which are not proprietary but borrowed from other websites such as Miniclip, who allow webmasters to copy the code and put it on their own websites as a way of marketing their brand. The Thinking Skills Club takes advantage of this scheme to gather the games so kids can play them in one place, then categorizes them and adds tracking to make sure they get a whole brain workout.
The site is similar in principal to sites like Lumosity, which caters to baby boomers, but because the games are sourced from gaming sites they're generally more fun. "Adults can force themselves to play if they think it's good for them, but if a game isn't fun, a kid won't play it," says Moldofsky.