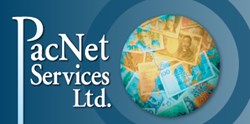 Our strengths include cutting edge technology for instant payments in key markets worldwide.
Vancouver, BC (PRWEB) November 12, 2013
PacNet Services, an international payment processing company that provides cutting edge payment services to companies around the globe, today confirmed its sponsorship of the Collections / Debt Sale & Purchase Conference, being held on November 13, 2013 in Manchester. Focused and high level, the conference will be attended by a broad selection of collections professionals. This event promises to be an excellent platform to initiate new business relationships, while delivering interactive learning opportunities for attendees to engage with the expert speaker faculty. The PacNet booth will be a definite hotspot for debt management companies who wish to learn about accepting and sending payment in key markets around the globe.
PacNet payments experts will be at booth 8, ready to confer with debt management companies about accepting monthly payments from debtors and issuing any volume of payments to creditors. "Through our diverse range of payment processing services, we can issue any volume of payments by cheque or EFT to any number of creditors. We can also process monthly debt service installments via direct debit, debit card, or even cheque," says Brian Weekes, VP of Business Development, Europe, for PacNet Services. "Our strengths include cutting edge technology for instant payments in key markets worldwide."
Credit Today's flagship collections and debt sale conference continues to attract the largest audience in the collections and debt sale industry's calendar and addresses attendee's most critical business issues. The conference delivers the best forecast for the trends and business that lay ahead, alongside valuable advice and critical updates, to enable senior collections professionals to execute a market leading collections strategy.
About PacNet Services:
PacNet offers a diverse range of both traditional and electronic payment services for online lenders, direct response marketers, direct mailers, e-commerce, publishers and more. Some of the payment facilities offered by PacNet include credit card processing in 130 currencies, direct debit, EFT, ACH, cheque processing, and bank transfer collection from the UK and around the world. PacNet also initiates outgoing payments by cheque and EFT for refunds, rebates, commissions and royalties in both major and developing markets around the globe.