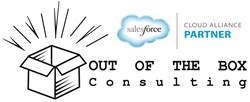 Sunnyvale, CA (PRWEB) November 13, 2013
OUT OF THE BOX Consulting's Salesforce implementations provide C-Level Executives and Sales and Service Departments with visibility, measurement and control of key performance indicators (KPIs) not previously realized.
"NetTel Partners sees 200% increase in productivity after OUT OF THE BOX Consulting implements Salesforce.com and adapts it to serve as an ERP system too!" said Pete Magliocco, CEO & Managing Partner, NetTel Partners – click here for the Case Study.
The NetTel Case Study & Success Story will be Showcased at Dreamforce 2013 in the following sessions:

The End of Spreadsheets - Using the Platform for Processes Beyond Sales/Service
How the Best Small Businesses Appear Bigger & Grow Faster
6 in 60: Six SMB Customers Share Their Sales Success Secrets
If you are interested in finding out how OUT OF THE BOX Consulting can help you, visit http://www.ootb-c.com and submit a request form.
About OUT OF THE BOX Consulting
OUT OF THE BOX Consulting & Productions, Inc. (http://www.ootb-c.com) is a Sunnyvale CA-based company, founded by Reuven Shelef in 2004 with the mission to supply the best ROI you can get from your CRM Solutions.
About NetTel Partners
NetTel Partners, LLC (http://www.nettelpartners.com) is a Philadelphia PA-based lead generation and demand creation firm specializing in B2B services in the technology and telecom industries. NetTel equips their clients with real opportunities to expand the reach of their business and drive new growth.