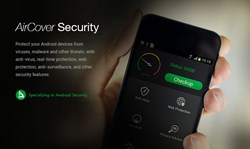 Anti-Surveillance enables AirCover Security to indentify the suspicious apps that access record audio and network communications meanwhile Android users are having calls.
San Francisco (PRWEB) November 14, 2013
After launching AirCover Security for a couple of months, which is aiming to protect Android users from viruses, malicious apps, thieves, BlueSprig is pleased to introduce Android users another brand new security feature in app fields. Now, in addition to offering traditional security features of mobile smartphones, AirCover Security will also provide with Anti-Surveillance to protect Android smatphones from eavesdropping or monitoring.
According to Jason Johnson, the CEO of BlueSprig, launched the first version in September, AirCover Security has received favorable responses from more than 200,000 users, among which 84.7% users think they need to make sure no one's spying on their phones after Edward Snowden provided the Guardian with top-secret NSA documents leading to revelations about US surveillance on phone and Internet communications. "Our survey shows an increasing number of Android users become more and more concern about their personal privacy meanwhile most people wondering where Snowden is. And that's what Anti-Surveillance exist for and what exactly makes AirCover Security stand out among the sea of competitors," said Jason, "Our intention is to help Android users enjoy their mobiles in peace of mind."
Anti-Surveillance enables AirCover Security to indentify the suspicious apps that access record audio and network communications meanwhile Android users are having calls and gives them real-time advice to uninstall the apps that may put Android under surveillance. "You'd better enable Anti-Surveillance so that AirCover Security can keep your privacy in personal instantly," said Jason in confidence, "If the someone's trying to spy on your phone with a software, AirCover Security will tell you before he makes it."
About AirCover Security
AirCover Security is an all-in-one Android security & performance optimization app with all-round security features, including Anti-Virus, Anti-Theft, Anti-Surveillance, Web Protection, Privacy Advisor, Performance, Call & SMS Blocker etc.. AirCover Security is now available for free in Google Play. It's designed for Android 2.2 and above. It's FREE on Google Play:
https://play.google.com/store/apps/details?id=com.myaircover.security
For more information, please visit: http://www.myaircover.com/
About BlueSprig
BlueSprig puts the 'personal' back in personal computing. With powerful, lightweight, easy-to-use utility apps, BlueSprig is the fresh alternative to software, at home or on the go – your one-stop shop for security, privacy, performance and efficiency. Led by successful entrepreneurs in Silicon Valley and China, BlueSprig has offices in San Francisco and Chengdu, China. For more information, visit: http://www.bluesprig.com
Contacts
BlueSprig, Inc.
Fiona Choo
PR manager
press(at)bluesprig(dot)com