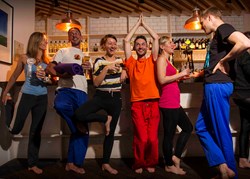 Doing an activity on a date, even if that's dressing up as an insect, gives you something in common from the get go. Gets rid of awkward silences and gives you plenty to talk about." Fiona Bateman, Head of Partnerships, DoingSomething.co.uk
London (PRWEB UK) 15 November 2013
A new activity-based dating site DoingSomething.co.uk launches weekly night Yoga Pub Dating; it seems the trend of 'experiential leisure' has hit the dating industry. With one in five relationships starting online, internet dating is the norm. But what people are doing on those dates is new.
Activity-based dating site, DoingSomething.co.uk, has seen over 250,000 'Doing' dates 'liked' by site members since launch two years ago. Members post dates they want to go on their profiles. Then when someone wants to do it with them, they meet and go on a date.
Members have very creative date suggestions with even cockroach dating at the Science Museum proving popular. Whilst dressing up in a cockroach might seem odd to many, Fiona Bateman, DoingSomething Head of Partnerships, explains why it's a better way of dating than the traditional tepid pint and stale crisps date.
'Doing an activity on a date, even if that's dressing up as an insect, gives you something in common from the get go. Gets rid of awkward silences and gives you plenty to talk about.'
DoingSomething also organises events. They took over the roof of the O2 in September for a PingPong tournament at 150ft. They remain tight lipped about the Christmas climb theme but expect something great.
They launched Yoga Pub Dating. Matt Janes, DoingSomething co-founder and CEO adds, 'Whilst Yoga Pub Dating is an adventurous first date, it really embodies the spirit of our site. If you're a Yoga virgin or veteran, you'll have plenty to discuss in the pub afterwards.'
Yoga teacher Richard Brook adds, 'When people meet in everyday life, they can feel awkward and distracted. Yoga relaxes and energises you so you feel more vibrant, present and authentic. Surprisingly there's been a strong demand from men too.'
December sees them partnering with Hot Tub Cinema to launch Hot Tub Speed Dating. A night that needs no explanation.
Is dating more fun when you're DoingSomething? The answer is a resounding yes.