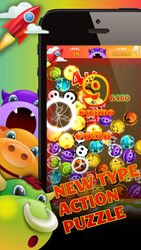 For a limited time only, Mango Factory is offering Zooper for free.
(PRWEB) November 14, 2013
Mango Factory's match-3 superhit Zooper has been entertaining fans since it hit the iTunes App Store recently. Now, this successful new game is about to become even more tempting for would-be Zoopers thanks to a generous sale.
Mango Factory created their new match-3 gaming sensation by incorporating a unique in-game physics, tilt- as well as touch-controls, and focusing on well-executed game design. Zooper's addictive, engaging gameplay has kept fans coming back for more, and the newly lowered price tag will no doubt draw more fans into the fold.
The game's title comes from the main player character—a "zooper" is a "zoo warper." The premise of this whimsical game is based on the title character's role. Innocent animals have been co-opted into participating in outer-space experiments. Unfortunately for these furry friends, the scientists behind the experiments are less than reputable. Fortunately, however, the animals can count on the player to save them by "warping" them back to earth. To warp the critters to safety, the zooper must round them up into groups of three or more.
By herding together larger groups, the player creates animals with special abilities which will help get their friends to safety. Groups of 4 create a bomber animal, groups of 5 create an animal that can electrify its peers, groups of 6 grant a magnetized animal friend, and groups of 7 a special anti-gravity animal. By creating combos and utilizing special abilities, players can up their scores. With Game Center integration, this makes Zooper as competitive as it is fun.
Zooper is available now in the iTunes App Store. Generally, the game retails for $1.99, but for a limited time only, Mango Factory is offering Zooper for free. Gamers who haven't tried this innovative new game shouldn't wait, however, because there's no telling how quickly this offer will be over.
Features:
*Zooper is so intuitive, almost anyone can learn how to play in only seconds.
*An exciting new physics engine that revitalizes the match-3 genre.
*Touch and tilt controls add variety.
*Adorable character design, gorgeous graphics, and fun sound effects.
*Achievements galore!
*Game Center support to indulge your competitive streak.
*Lots of special abilities, combo boosters, and score-raising tricks to learn.
*Create bomber animals by combining four like animals, electrified animals by combining five, magnetized animals by creating six, and an ultimate anti-gravity power animal by combining seven animals of the same type!
Device Requirements:

iPhone, iPod touch, and iPad
Requires iOS 4.3 or later
44.7 MB
Pricing and Availability:
Zooper 1.1.2 is now free and available worldwide exclusively through the App Store in the Games category.
iTunes App Store: https://itunes.apple.com/us/app/zooper/id540020907?mt=8