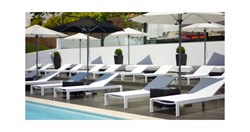 We were proud to work with the team at the Juicy Oasis - their attention to detail and energy is inspiring. The retreat is completely unique and the perfect setting for our product ranges.
(PRWEB UK) 20 November 2013
Akula are renowned as international designers and manufacturers of exceptional quality outdoor furniture, with an ever growing number of clients and distribution partners spread across the world.
Their outdoor furniture range has been designed specifically to meet the needs of the most demanding clients in the world and is installed at resort hotels, spas, bars, heavy use airport business lounges, cruise lines & restaurants.
They just completed an extensive installation at the wonderful Juicy Oasis in Portugal, providing a range of outdoor furniture perfectly suited for the needs of this exciting and exceptional client.
The Juicy Oasis Boutique Health Retreat and Spa is the brainchild of 'Juice Master' Jason Vale. It is not simply a 'Spa Hotel' but rather a retreat, where clients are taken on a unique seven day mind and body journey, to recharge, reboot and inspire.
They were looking for a very specific feel to their layout - clean lines at poolside and deep inviting social seating on the terrace. They were looking to create outdoor areas that complemented the energy and simple beauty of the resort's location.
It was vital that everything Akula delivered complimented the ambiance of this exceptional resort and after extensive discussions with the Juicy Team, Meridian Loungers, and Tuscany Stamskin Outdoor leather beds, were chosen for poolside.
The result was a comfortable and clean vantage point from which to take in the gorgeous vistas of the lake and mountain, and to soak up the Portuguese sunshine.
Additionally Akula's Aegean modular deep seating was a perfect fit for the expansive terrace, providing inviting, informal, and luxurious social seating, with the option to very easily rearrange the settings to suit different group sizes.
To discover Akula for yourself visit http://www.akulaliving.com.