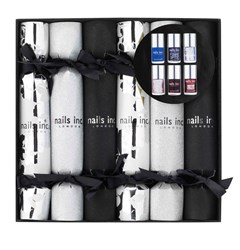 We've handpicked the perfect shades to ensure your nails will look fabulous every month of the year.
Johannesburg (PRWEB) December 02, 2013
Nails inc Christmas Crackers
Taking a dinner party to the next level becomes much simpler with the help of these stylish crackers, perfect for adorning the dinner table, the crackers come complete with a full size polish and fashion quote.

Mayfair Mews- blue Fibre Optic polish
Baker Street- cobalt blue
Marylebone Lane- red full coverage glitter polish
King's Road- rose gold Foil effect polish
Kensington High Street- deep wine polish
Trafalgar Crescent- silver Galaxy polish
Nail Polish Diary
Nail the hottest trends every month with this incredible selection of 12 mini size nail polishes featuring bestsellers, new trend shades and never seen before special effects. We've handpicked the perfect shades to ensure that Nails inc fans will have fabulous looking nails every month of the year.
January- Kensington Caviar Top Coat, best selling 45 second dry look top coat with wet look finish
February- St Martin's Lane, new glossy grape trend shade
March- Baker Street, best selling cobalt blue polish
April- Sloane Avenue, new neon coral polish
May- Fulham Palace Gardens , new rainbow sparkles polish
June- Chester, Feather effect nail polish
July- Notting Hill Gate , neon pink polish
August- Fleet Street, new leather effect polish
September- Electric Lane Holographic Top Coat, layer over any shade
October- Belgravia Place, new red Fibre Optic effect polish
November- South Kensington, new silver Foil effect nail polish
December- Knightsbridge Road, new Galaxy effect nail polish
These stunning Christmas gifts will be available at select Edgars and Red Square stores in November. For more information on nails inc, go to http://www.nailsinc.com.
About Nails inc
Founded in 1999 by young entrepreneur Thea Green MBE (for services to the Beauty Industry), Nails inc is the UK's leading fashion forward nail brand with a bestselling, highly sought after product range. Nails inc provides the ultimate in affordable luxury and is famous for its innovative, catwalk inspired, professional products.
The idea for Nails inc came about in 1999 when Thea was just 24 years old and working as a fashion editor in London. Spotting a gap in the market for professional high quality manicures and a more fashion forward range of products for women with little time to spare, Thea set about launching Nails inc. She began developing the Nails inc product range and opened the first Nails inc salon on South Molton Street near London's Bond Street. The store opened to queues down the street, eager to try the now famous 15 minute manicure and the professional, fashion inspired product range.
Thea's fashion background played a huge role in the creation of the product range, ensuring that customers could always find the perfect shade to match the latest trends. Staying true to its London heritage, all of the products are named after famous London destinations such as Notting Hill Gate, Portobello, St James, Piccadilly Circus and The Thames.
Nails inc has established itself as the UK's most successful and popular nail bar chain, seeing on average 10 000 customers per week. Nails inc has two luxurious stand alone stores in London and 59 nail bars in department stores. The extensive product range is now available internationally.
Nails inc products are formulated with the latest professional technologies z are created for women who demand uncompromising quality and instant results. Fashion is at the heart of Nails inc and as a result has become one of the leading colour brands in the UK, with a unique ability to switch on the latest shades. Nails inc are always first to market with the hottest trends and product innovation, including special effects such as magnetic, 3D glitter, crackle and nail jewellery. These revolutionary products are perfect for giving customers the opportunity to experiment with the latest fashions and effects.
Nails inc regularly work with fashion designers and are always spotted behind the scenes at Fashion Week, collaborating with designers such as Matthew Williamson, Issa, Alice & Olivia, Osman and Richard Nicoll. According to Thea, "Having regular exposure to fashion designers and how they work, combined with the ability to manufacture new colours in an instant, has given us a unique edge within the nail industry. Nail polishes have become the ideal non-committal, affordable fashion accessory," she explains.
"We regularly launch new nail colours from chic taupe to pastel yellow. It keeps our fashion conscious customers very happy, as they know they can expect the unexpected when it comes to new nail shades."
Nails inc works behind the scenes at Fashion Week where Thea creates a Fashion Week blog as the shows take place. Trend shades are matched there and then so the latest shades are available just a few weeks later.
Thea Green has won a number of business awards including Entrepreneur of the Year 2010 at the Woman of the Future Awards and the Retail and Consumer Award at the 2011 First Women Awards. In 2011, Thea was awarded an MBE for her services to the beauty industry, presented to her by the Queen at Buckingham Palace.
Nails inc is now available in 300 Sephora stores in the US and Canada and also in fashion boutique's such as Kitson, Fred Segal and Saks. Nails inc is also available in Sephora stores in France, Luxembourg, Monaco, Italy, Spain, Denmark, Greece, Turkey, Romania, Serbia, Bulgaria, Poland, Czech Republic and The Netherlands. Furthermore, Nails inc is available in the UK, Republic of Ireland, France, Spain, Romania, Poland, Italy, Greece, Netherlands, Turkey, Denmark, Sweden, Czech Republic, Serbia, Portugal, Bulgaria, Singapore, Malaysia, Mexico, Canada, USA, UAE, Kuwait, Qatar, Australia and will be available in the Middle East and South East Asia later this year.
About Edcon
Edcon is South Africa's largest non-food retailer, with a market share of the South African clothing and footwear (C&F) market nearly twice that of its nearest listed competitor, trading through a range of retail formats. The Group has grown from opening its first store in 1929, to trading in 1 368 stores (as at 28 September 2013) in South Africa, Botswana, Mozambique, Namibia, Swaziland, Lesotho, Zambia and Zimbabwe. Edcon has been recognised in national surveys as one of the top companies to work for in South Africa and continues to make significant progress in its equity and transformation goals.
Our retail businesses are structured under three divisions: Edgars division, including Edgars, Boardmans, Edgars Active, Edgars Shoe Gallery, Red Square and the Group's mono-branded stores such as Topshop Topman, Tom Tailor, Dune, Lucky, T.M. Lewin, Lipsy, Inglot, La Senza and Accessorize whose product is also available through Edgars stores, serves principally middle and upper income markets; Discount division including Jet, JetMart and Legit, serves principally middle to lower income markets; and CNA, the Group's stationery, books, games, movies, music, hi-tech electronics and mobile retailer. The Edcon Credit and financial services division provides credit and insurance products to the Group's customers.
With the launch of its "Thank U" loyalty programme, Edcon now has the largest retail customer database in South Africa which enables it to provide customers with relevant offers across its suite of retail and financial services products; this programme includes all mono-branded stores in South Africa.
For more information, please visit the Edcon website: http://www.edcon.co.za.
About Edgars
Edgars is the Department Store of Choice for Men's, Ladies, Kidswear, Footwear and Accessories for every occasion as well as leading Cosmetic brands from around the world including GOSH Cosmetics, Nails inc, Sampar, Korres, Radical Skincare, Greenland and Kings & Queens. Showcasing the widest range of the latest's fashion trends from top international brands to own private label brands; Edgars offers something for everyone. There are 181 Edgars' stores in South Africa including neighbouring countries.
For more information, please visit the Edgars website http://www.edgars.co.za.
About Red Square
Red Square is South Africa's leading cosmetics speciality brand offering the widest range of national and international branded cosmetics in 39 stores and now online at http://www.redsquare.co.za.
Covering make-up, skincare, fragrances and accessories, Red Square includes famous brands such as Clinique, Clarins, Estee Lauder, L'Oreal, Revlon, Yardley and Coty and is constantly developing its catalogue as seen with the recent additions of GOSH, Nails Inc., Smashbox, Bobbi Brown & CK Colour. Customers can consult a beauty advisor at the Red Square treatment counter for a complimentary skin analysis.
Red Square now offers a unique sampling programme for on-line customers that allows them to choose three free samples with every order. The website promises to be a hugely valuable tool with a wealth of product information and customer reviews. All orders over the value of R350 are delivered at no cost to the customer.
Customers can select from a wide choice of payment options including Edgars Cards, Jet Cards, Boardman's Cards, Legit Cards and any Thank U account cards, as well as all major credit cards. The Thank U loyalty programme offers additional customer benefits which can be earned when spending in-store or on-line.
Where can we get more information?
Call the Red Square Call Centre on 0800 203 925, visit http://www.redsquare.co.za or email redsquareinfo(at)edcon(dot)co(dot)za.
Customer Service Call Centre Operating hours:
Monday to Friday 08h00 to 18h00
Saturday and Sunday 09h00 to 15h00
Public Holidays Closed
How do I apply for an account?
•At any Red Square / Edgars store in the customer service department
•SMS your name, surname, ID number, gross income and expenses to 49222
•Click on the "apply for an account" link in the footer of the website and complete the online application form
Issued on behalf of: Nails inc / Edgars / Red Square
Contact: Sharon Dickinson
Issued by: Phatic Communications
Contact: Sarann Buckby
Cell: 083 381 0710
Email: sarann(at)phatic(dot)co(dot)za