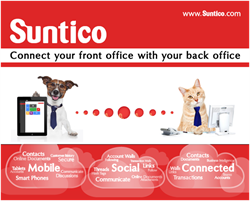 Suntico brings old man Peachtree into the social age.
(PRWEB) November 13, 2013
In 1978, when Jimmy Carter was President and The Eagles were singing about a Californian hotel, four men founded a software company and subsequently developed a business software application. This application was Peachtree Accounting and is possibly the oldest microcomputer computer program for business still in use today.
Suntico connects the old with the new by providing an online social workplace that links to Peachtree Accounting, now an important member of the Sage Group's product range and recently rebranded as Sage 50 US Edition.
Suntico's Facebook style interface makes it easy for busy teams to find and share information companywide. With seamless links to Sage data, teams remain connected over the status of prospects or customer orders even when out of the office. Credit control issues, news or questions can be easily shared using a familiar set of tools.
SVP Business Development Hugh Johnson explains: "Business used to be about efficiency and repetition of standard tasks at increasing scale. Times are changing. Suntico's social concept enables companies to become more fluid and flexible while making sure that important information is accessible to whoever needs it. It is like putting in a workflow system without having to define or even think about your workflow."
You can access a demo account or free trial of Suntico at suntico.com/pricing/. Companywide implementation can form part of a free trial with no obligation to purchase. Prices range from $185US/year for 2 users to $1,495US/year for a 20 user subscription. There is an attractive referral program for professionals that provide support to companies that use Sage 50.