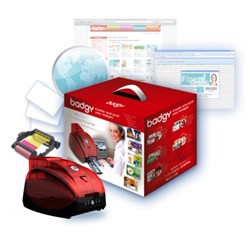 Evolis, France (PRWEB) November 15, 2013
DURABLE (UK) Ltd and Evolis created, in late 2012, a dedicated sales and distribution partnership to promote the Badgy card printer to the UK Office products market, with the idea to deliver a smart, quality-focused, made-in-Europe card printing solution catering to office environments. This partnership resulted in a huge level of success, as declared by Stewart Anderson, Vice-president Marketing, DURABLE UK: "Badgy has been a revolution for DURABLE as it fully complements our brand's leading range of name badges and security pass holders. It is a unique and innovative product that our customers love and have quickly adopted. We are extremely pleased that BOSS recognized the exceptional features and benefits that BADGY offers, and we look forward to even more success with this outstanding product." The annual BOSS Industry Awards recognize and reward those in the office supplies industry who can demonstrate excellence. This year, they underscore the commitment from DURABLE and Evolis to bring smart, innovative and user-friendly solutions into the office channel.
Badgy is an all-in-one solution designed to instantly print professional quality plastic cards and badges. Badgy comes bundled with a library of badge templates available as free downloads, a Badgy printer and consumables.